One Mexican Company Is Winning as Trump Plans Building Boom
By
Grupo Mexico only gainer since Trump election Nov. 8

U.S. infrastructure spending brightens copper producer outlook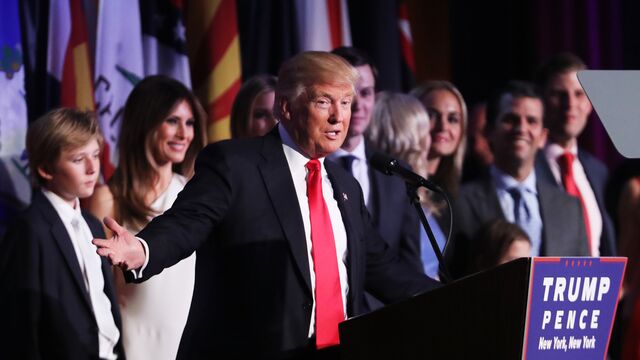 Donald Trump's plan to make American infrastructure great again is benefiting at least one Mexican company. 
Grupo Mexico SAB was the only company that rose in Mexico's IPC stock index since the Nov. 8 U.S. election through Wednesday, as Trump's $550 billion infrastructure pledge helps fuel the biggest surge in copper prices in seven years. That's shielding the company owned by billionaire German Larrea from Trump's threats to build a border wall between the countries and restructure the Nafta trade agreement. Concerns that trade will be stifled have sent the peso and shares of other Mexico securities tumbling.
"Trump has stated he is looking for very aggressive economic growth, particularly in terms of more government and infrastructure spending," Bernardo Trejo, Invex Casa de Bolsa SA equity analyst in Mexico City, said in a phone interview. "Copper has started to anticipate a larger investment in infrastructure and prices rose vertically since last week, which led to a strong rally in Grupo Mexico's shares."

Trump pledged during his campaign to renew the focus on growth in the U.S. and improve the country's infrastructure behind billions in investment dedicated to works such as bridges, roads and airports in the U.S. Demand for copper has also proliferated as retail traders and funds have been buying the metal since the start of November after China's exchanges boosted margins on other commodities, according to Citigroup Inc.
Even after slipping 5.2 percent from an all-time high Monday to $54.35 at 10:55 a.m. Thursday, the world's fourth-largest copper producer has climbed 11 percent since the election. Copper is the best performer on the LME this quarter and jumped 11 percent last week, the most in five years. Spokesmen for Grupo Mexico did not respond to requests for comment.
Weaker Peso
Alfonso Salazar, equity analyst at Scotia Capital, raised his recommendation on Grupo Mexico to sector outperform from sector perform on Nov. 14, forecasting that the weakened peso will have a positive impact on the company's costs. Scotia forecasts a 26 percent increase in share price to 68 pesos per share in the next 12 months. Twelve of the 22 analysts that rate Grupo Mexico recommend buying the shares, according to data compiled by Bloomberg.
"We believe Grupo Mexico offers an attractive exchange rate hedge for local investors," according to Scotia's Nov. 14 report led by Salazar. "If the peso to U.S. dollar exchange rate continues to depreciate, we believe Industrias Penoles and Grupo Mexico are poised to outperform many large cap stocks trading on the Mexican Stock Exchange."
The Mexican peso has sunk 15 percent this year against the U.S. dollar, the world's second-worst performing emerging market currency. The peso hit an all-time low on Nov. 11.
Market Jitters
Grupo Mexico's shares will likely settle as the shock following the U.S. elections calms, Trejo said.
"We will begin to really see if Trump's policies are as aggressive as expected, and if they materialize copper prices will have a chance to rise more," Trejo said. "Now that the initial euphoria has worn off, the prices are likely to return to more reasonable levels."
— With assistance by Isabella Cota
Before it's here, it's on the Bloomberg Terminal.
LEARN MORE