Mnuchin's Bank Accused of Redlining Black, Latino Home Buyers
By
Two groups file claim against OneWest, which he built and sold

He has been a leading contender to run Treasury under Trump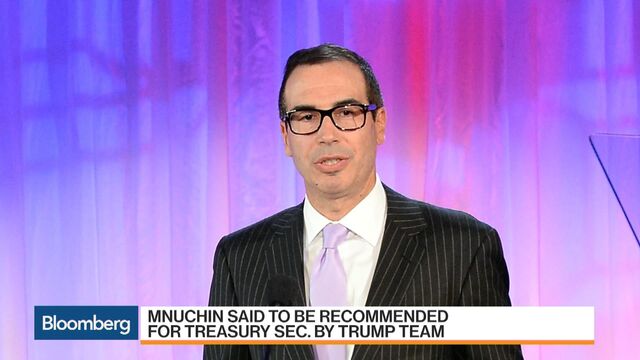 OneWest Bank, the lender Steven Mnuchin built and then sold last year, broke federal laws by keeping branches out of minority neighborhoods and making few mortgages to black and Latino borrowers, two housing advocacy groups alleged to U.S. regulators.
Their redlining complaint doesn't name the financier, but it may complicate his potential appointment to Treasury secretary under Donald Trump. As recently as Monday, the president-elect's transition team viewed him as its top candidate, people familiar with the process said at the time.
OneWest made just two mortgages to black borrowers in 2014 and 2015 across a swath of Southern California counties including Los Angeles, where it had 52 branches, according to a statement from the California Reinvestment Coalition and Fair Housing Advocates of Northern California. Despite the region's diversity, the lender didn't run a single branch there in a predominantly black neighborhood, the groups said.
"The bank has no significant branch presence in communities of color," Kevin Stein, deputy director of the CRC, said in the statement. "Its home loans to borrowers and communities of color are low in absolute terms, low compared to its peer banks, and low when compared to what one would expect."
The complaint asks the Department of Housing and Urban Development to investigate whether OneWest, now a unit of CIT Group Inc., broke laws ensuring equal access to credit for minority home buyers.
Lending Commitment
"OneWest Bank worked hard to focus on building an easily accessible platform serving all clients and all communities across its physical network of branches," its former chief executive officer, Joseph Otting, said Thursday in a statement. "While new mortgage originations were minimal in 2014 and 2015, OneWest remained committed to fair lending."
Mnuchin, who's on CIT's board, declined to comment. In a statement, CIT said it's "committed to fair-lending and works hard to meet the credit needs of all communities and neighborhoods we serve."
Blacks and Latinos were particularly hard hit by the financial crisis. Regulators have said those groups were more often pitched the worst loan products, sending many into foreclosure once house prices fell. Some communities struggled with blight.
Government investigators have since examined a variety of types of discrimination, including redlining. That practice got its name eight decades ago when the Federal Housing Administration drew up maps using red ink to delineate urban neighborhoods considered too risky for lending. Residents there struggled to get loans.
Building Bank
Mnuchin, a former Goldman Sachs Group Inc. partner who later managed hedge funds, assembled OneWest in the wake of the 2008 financial crisis.
He organized a group of billionaire investors to buy remnants of failed banks including IndyMac. The company was soon profitable. But it and Mnuchin were eventually targeted by protesters over the firm's handling of struggling borrowers. Stein called it a "foreclosure machine" in a statement earlier this week.
Read More on That Era: Steven Mnuchin's Big Score
OneWest has said it did make efforts to help homeowners through its mortgage servicing arm, which collected loan payments. The company pledged in October 2010 to offer principal reduction, a controversial practice that lowers the outstanding balance for an underwater borrower but also forces a loss on investors in the debt. The firm did it under the Treasury Department's Home Affordable Modification Program, making it one of the first servicers to embrace that system, according to a statement at the time.
By the first quarter of 2013, OneWest was one of just four firms in the program to receive a top assessment rating, with its servicing operation found to need only "minor" improvements. It was the eighth straight quarter the bank earned those marks.
Mnuchin oversaw OneWest until selling it to CIT Group for $3.4 billion in cash and stock. He held a 1.2 percent stake in CIT as recently as March.
Neglected Properties
For their complaint submitted to HUD this week, the housing advocates examined loan data provided to the Federal Reserve Bank of New York during CIT's takeover of the lender. Advocates said they also compared OneWest's branch network to demographic maps of six counties: Los Angeles, Orange, Ventura, Riverside, San Diego and San Bernardino.
None of 74 branches they found in that region was located in a predominantly black neighborhood, they said. One was placed in a largely Asian census tract, and 11 were in areas with a majority of Hispanics.
The advocates also examined 16 bank-owned properties in Contra Costa and Solano counties. Homes in minority neighborhoods were usually in dramatically worse states of repair than similar homes in predominantly white areas, the groups said. Such blight can further depress local housing prices.
Most homes "in communities of color looked abandoned, had trash strewn about the yard and boarded-up doors and windows, and weren't clearly marketed as 'for sale,'" Caroline Peattie, executive director of Fair Housing Advocates of Northern California, said in the statement.
In contrast, she said, "homes in white communities were well maintained, had manicured lawns and were clearly marketed as 'for sale.'"
Before it's here, it's on the Bloomberg Terminal.
LEARN MORE