Italy Inc. Backs Premier Renzi's Crucial Reform Vote
Populists take on the establishment in Italy, and the premier's future is at stake
By and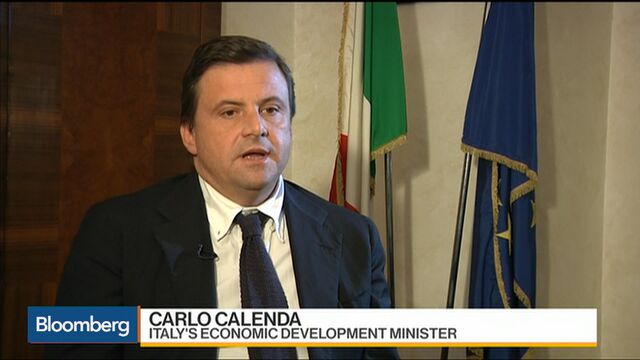 Italy's business leaders are saying 'Si' to Prime Minister Matteo Renzi's constitutional referendum.
Some of the country's most prominent executives, including Fiat Chrysler Automobiles NV Chief Executive Officer Sergio Marchionne and CIR SpA Chairman Rodolfo De Benedetti, say Renzi's proposed constitutional reform would move Italy in the right direction and help lure foreign investors, according to a poll conducted by Bloomberg News.
CEOs and chairmen of Italy's 100 biggest companies by market value were asked if they back Renzi's proposal. Executives of 42 companies, representing a total market value of more than 240 billion euros ($257 billion), either responded to the survey or made public comments of their voting intention.

Of the 42 top managers, 98 percent said they would vote in favor of the measures on Dec. 4 that include changing the powers of the Senate, a move Renzi says would make governments more efficient. However, the support from business leaders contrasts with public opinion polls, which currently show the "No" camp -- led by the populist Five Star movement -- winning.
"We are facing a choice between change and innovation on one side and immobility and conservation on the other, so it's normal that entrepreneurs, who have been asking for decades for structural reforms, are in favor," said De Benedetti of CIR, which controls publisher Gruppo Editoriale L'Espresso SpA, car-parts maker Sogefi SpA and healthcare business Kos SpA.
"The main issue is that the debate has shifted away from the merit of the reform to a political vote on the government," De Benedetti said in an interview. "If you ask Italians if they want a more efficient and less expensive political system, who would say no?"
Renzi's Fight
Renzi is fighting an uphill battle following the anti-establishment victory of Donald Trump in the U.S. and the Brexit vote in June. The "No" campaign, also backed by former premier Silvio Berlusconi and some dissident members of Renzi's Democratic Party, is ahead 52.5 percent to 47.5 percent on average in the November polls.
Italian executives who support the constitutional change are mistaken, according to Five Star's Luigi Di Maio, deputy speaker of the lower house of parliament and a potential successor to Renzi if early elections are held. "Everyone has the right to his opinion, but their clients will be hurt by this choice, they should read it carefully," Di Maio told Bloomberg News.

Among those who agreed to specify a reason for their vote, 94 percent said a "Yes" victory would streamline the government's decision-making process and lift business and investment. Half of respondents said the reform would reduce political instability, while 39 percent said approval would allow Renzi to stay in power and avoid a political crisis. And, 28 percent said it would cut the costs of politics.
Respondents were allowed to give more than one reason. Opponents said the referendum won't produce significant changes because the role and powers of the new senate are unclear.
"The businessmen like a future that is clear and foreseeable as they hate uncertainty," former Prime Minister Romano Prodi said when asked about the survey.

The 41-year-old premier who took power in February of 2014 has said he would probably step down if the "No" side prevails.
Marchionne, a Italian-Canadian, was one of the first business leaders to express strong support for Renzi's proposal, saying he will vote "Yes" because the change goes in the "right direction." His comments immediately drew strong criticism from the "No" side because the executive is a resident in Switzerland and Fiat Chrysler is registered in the Netherlands and has its tax home in the U.K. "Renzi was left alone with the Canadian Marchionne," Berlusconi ally Renato Brunetta said on Twitter in September.
Smaller Senate
If adopted, the measure would shrink the size of the Senate and allow many bills to be approved by the lower house only. It will also end the Senate's power to bring down governments with a vote of no confidence. Opponents say that the changes will remove checks and balances and over-centralize power while the cost-cutting would be insignificant.

Italy's main corporate lobby Confindustria, which represents more than150,000 companies that employ more than 5.4 million people, unanimously voted to support the referendum. Still, the leaders of 58 companies out of the top 100 declined to take part in the Bloomberg survey, so it's difficult to say how corporate Italy as a whole is likely to vote.
Too Much Emphasis
Italian executives are playing down the possibility of market and political turmoil for the country if the measure is defeated. There is "too much emphasis on the Italian referendum, probably because people didn't pay enough attention to the chances for a pro-Brexit vote in the U.K.," Atlantia SpA CEO Giovanni Castellucci said in an interview on Bloomberg Television last month.
"While that outcome could bring more volatility in the short term, it won't change the scenario because Italian economic policy is already demarcated by budget commitments on one side and the necessity of boosting investments, including on infrastructure, on the other," Salini Impregilo CFO Massimo Ferrari said in an interview. 
"So it can't change too much regardless of the results."
--With assistance from Chiara Remondini, Francesca Cinelli, Sonia Sirletti, Maria Ermakova, Daniele Lepido and Giovanni Salzano. 
Before it's here, it's on the Bloomberg Terminal.
LEARN MORE