Hillary Clinton to Supporters: Keep Fighting Because 'America Is Worth It'
Her speech to the Children's Defense Fund marked the first time since her concession that Clinton publicly talked about her defeat.
By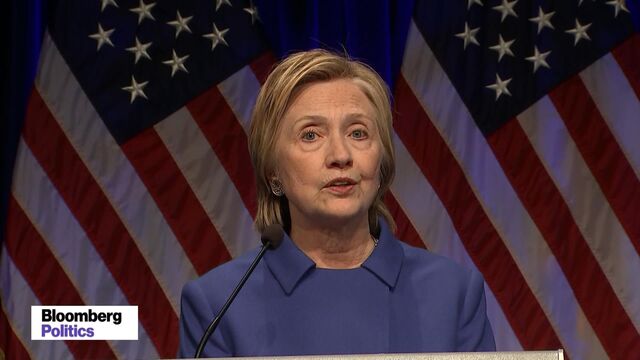 Hillary Clinton returned to the public eye on Wednesday, just a week after her loss in the presidential election, with a message for her supporters: keep fighting.
"I ask you to stay engaged. Stay engaged on every level. We need you. America needs you. Your energy, your ambition, your talent. That's how we get through this," she said at a Washington gala for the Children's Defense Fund, where she worked after law school more than four decades ago.
"I know that over the past week a lot of people have asked themselves whether America is the country we thought it was. The divisions laid bare by the election run deep," she continued. "But please listen to me when I say this: America is worth it. Our children are worth it. Believe in our country, fight for our values and never, ever give up."
Though she tried to sound an optimistic note, Clinton didn't attempt to veil her disappointment about the results of the election — "more than I can ever express"—and admitted there have been a few times during the past week "when all I wanted to do is just curl up with a good book or our dogs and never leave the house again."
Her speech's most emotional moment came when she imagined her present-day self approaching her mother as a child. "You will survive," she said she would have told her mother, who was abandoned by her parents, with a hug. "You will have a family of your own, three children. And as hard as it might be to imagine, your daughter will grow up to be a United States senator, represent our country as secretary of state and win more than 62 million votes for president of the United States."
Clinton's appearance was planned before Election Day and, had she won, would have been a clear signal that she was staying true to her roots. Instead, it was an opportunity for her to begin to chart a path ahead after a loss she didn't expect and a wake of sorts for ardent supporters and staff. Marian Wright Edelman, the Children's Defense Fund's founder, described the event as "a love-in for our dear friend" and noted Clinton has a lead of more than 1 million in the popular vote. "She is the people's president!"
Clinton didn't hint at her future plans except to suggest that she'll keep doing what she's done throughout her career. "America is still the greatest country in the world. this is still the place where anyone can beat the odds. It's up to each and every one of us to keep working to make America better and stronger and fairer," she said.
Clinton first worked for Edelman in the summer of 1972, studying the status of school desegregation efforts in the south and going undercover as a mother looking to enroll a child in school in a small Alabama town. The next year, she joined what by then had become known as the Children's Defense Fund as a staff attorney based in Cambridge, Massachusetts. After moving onto other jobs, Clinton stayed involved as a board member until her husband ran for president.
Edelman and her husband, Peter, had a falling out with the Clintons in 1996 after Bill Clinton signed a welfare overhaul into law, which she said "makes a mockery of his pledge not to hurt children."
The relationship between the Clintons and the Edelmans is said to have improved over time. In 2013, Hillary Clinton was honored at the Children's Defense Fund's 40th anniversary gala and in a campaign video released soon after Clinton announced her candidacy last year, Edelman praised her as a "caring, young, bright, creative student who cared about children and those left behind."
Before it's here, it's on the Bloomberg Terminal.
LEARN MORE