Five Bright Spots for Japan Banks Burdened by Negative Rates
By and
Trump's win has spurred optimism over business prospects

Rising interest rates may alleviate slump in lending income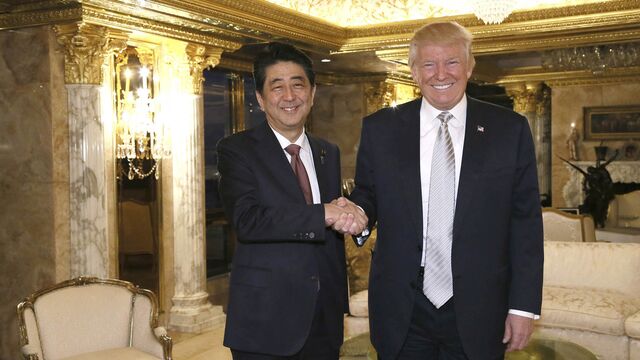 Amid all the gloom for Japan's biggest banks -- negative interest rates on reserves, waning brokerage income and fragile business confidence -- there is some cause for cheer.
Donald Trump's election victory has driven up bond yields in the U.S. and Japan, potentially bolstering interest income at Mitsubishi UFJ Financial Group Inc., Sumitomo Mitsui Financial Group Inc. and Mizuho Financial Group Inc. Speculation the president-elect would loosen profit-sapping regulations helped cut their bond risk and boost shares. Other positive signs include a commodity rally that could curb bad-debt costs and a pickup in domestic lending, with MUFG posting the first increase in home loans in six years.
That's all welcome news for the Tokyo-based banks, which this week reported lending income fell for a fifth straight quarter as interest margins continued to shrink under the Bank of Japan's negative-rate policy. Prime Minister Shinzo Abe met with the president-elect late Thursday in New York amid concerns over his stance on trade and security, saying Trump was a trustworthy leader and the two had frank discussions.
"Banks were one of the world's worst-performing sectors until Trump's election, but they've been in great shape since," said Nana Otsuki, an executive director and chief analyst at Monex Group Inc. in Tokyo. Lenders are benefiting from expectations for easing of financial rules, rising interest rates and loan growth related to U.S. economic expansion as Trump potentially increases infrastructure spending, Otsuki said.
CHART 1: Treasuries have tumbled since Trump's victory in anticipation of fiscal stimulus and faster inflation, while Japan's benchmark 10-year bond yields climbed to the Bank of Japan's target of zero for the first time since September. Wider interest-rate spreads in the U.S. could boost earnings of Japanese banks with a presence there, especially MUFG, which owns a regional bank based in San Francisco. While the global bond rout could deliver losses, Citigroup Inc. analyst Kentaro Kogi said a steady rise in domestic rates would spur bank profits and valuations.

CHART 2: Bank credit default swaps have fallen to the lowest in more than a year as stocks rebounded in the wake of Trump's win. The cost of protecting against default on bonds of MUFG's main lending unit fell to 55.3 basis points on Wednesday, the lowest since September 2015, according to data provider CMA. "CDS spread tightening is a very natural market reaction amid the recovery in megabank share prices," said Toshiyasu Ohashi, chief credit analyst at Daiwa Securities Group Inc. in Tokyo. "Trump's basic policy is infrastructure spending, which is a plus for banks because they can earn interest income."

CHART 3: Home loans at MUFG increased for the first time in more than six years in September after the bank offered low rates to promising clients. "We can secure long-term and stable interest income even in this difficult environment," said Ryuta Shimada, a Tokyo-based spokesman. Mortgage customers are attractive because many of them use MUFG for other transactions, he said.

CHART 4: The banks have kept their bad-debt costs down, signaling the oil slump has yet to significantly sour energy-related loans that they expanded in recent years. "It's true that credit costs for oil and gas have been lower than we expected as crude oil prices have come back a little," MUFG President Nobuyuki Hirano said this week. "Our loan portfolio is relatively balanced at the moment, both in Japan and overseas, and generally costs have been lower than our initial forecasts."

CHART 5: Six months ago, the three lenders forecast combined annual profit will drop to 2.15 trillion yen ($20 billion), the lowest in five years. For all their angst about negative rates, they're at least on course to reach those targets. "I think the banks' full-year forecasts are achievable," said Masahiko Sato, an analyst at SMBC Nikko Securities Inc. "And there's a strong possibility they exceed, given the forecasts are conservative in the first place."

Before it's here, it's on the Bloomberg Terminal.
LEARN MORE