Congo's Kabila Names Opposition Member as New Prime Minister
By
Appointment is part of accord establishing interim government

Africa's No. 1 copper producer was due to hold vote this month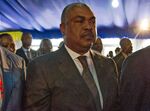 Democratic Republic of Congo President Joseph Kabila nominated an opposition politician as the copper-producing nation's next prime minister, part of an accord to form an interim government that will run the country until elections in 2018.
Samy Badibanga's appointment was announced in a presidential decree read 17 Nov. on state television. It follows the resignation of Prime Minister Matata Ponyo Mapon on Nov. 14 as part an October political agreement that allows Kabila to remain in power until delayed elections are held.
Congo's largest opposition platform, the Rassemblement, has boycotted the agreement, saying Kabila must step down when his second term ends on Dec. 19 as required by the constitution. The group called for protests on Nov. 19 and described Badibanga's appointment as a "non-event."
Kabila "is playing with the Congo," opposition leader Martin Fayulu said by phone from the capital, Kinshasa. Badibanga "does not have the experience and I don't see how he can drive a government during this period of crisis." Badibanga didn't answer two phone calls and a text message seeking comment on his appointment.
Elections in Congo were scheduled for later this month but have been delayed by the electoral commission, which cited financial and logistical constraints. Most of the country' opposition parties have boycotted government talks and continue to call for Kabila to step down. In September, more than 50 people died when security forces clashed with protesters calling for Kabila to leave office in December.
'Complex Process'
Badibanga, a former adviser to Rassemblement and Union for Democracy and Social Progress leader Etienne Tshisekedi, was excluded from the UDPS in 2012, along with other party members, for taking up his seat in parliament against Tshisekedi's wishes.
"Congo has a very complex political process ahead of it, which will take a very skilled prime minister with a lot of experience," said Kris Berwouts, an independent Congo analyst.
The new premier also faces a deteriorating economic situation. Low prices for copper, oil and other key exports in the past 18 months has forced Congo to slash its 2016 growth target to 4.3 percent from 9 percent and cut spending by 22 per cent in May.
"By appointing Badibanga, Kabila proves that he is not really interested in elections," Berwouts said in an e-mailed response to questions. "He only wants to avoid further sanctions and decrease the potential for street violence on Dec. 19."
Before it's here, it's on the Bloomberg Terminal.
LEARN MORE