Bond Squeeze 'Bleeding to Death' $28 Billion Pension Fund
By
Firm that manages RAFP fund says bond allocation 'sub-optimal'

Fund is hurt by inability to boost holdings of riskier assets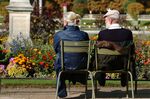 France's second-largest pension fund is at risk of "bleeding to death" if government bond yields remain low and it's unable to increase investments in riskier assets, according to the company that manages the fund.
"Our allocation to bonds is absolutely sub-optimal," Philippe Desfosses, chief executive officer of ERAFP, said in an interview at a conference on Monday. His firm oversees the 26 billion-euro ($28 billion) RAFP fund for public servants. Desfosses wants France's government to cut the minimum allocation to bonds in the trust's investment mandate.
The pension trust's annual return, which was 4 percent last year, could fall to as little as 0.4 percent within the next few years if the low-interest rate environment continues and the allocation restrictions remain unchanged, Desfosses said.
While yields on government bonds spiked after Donald Trump's election as U.S. President, interest payments on 10-year French and German government bonds remain below 0.9 percent, the return ERAFP aims to achieve for retirees. The pension pot faces a dilemma prevalent across Europe: a dearth of safe, long-dated investment options that match liabilities, as purchasing by the European Central Bank has pushed yields on sovereign debt to historic lows.
"One of the major issues for our European economies is this pension time-bomb," said John Hourican, CEO of Bank of Cyprus Pcl, said in London on Wednesday. "There isn't enough risk being taken by the asset-management industry" and a change of rules is needed, he said.
50% Bonds
Desfosses's fund has to invest at least 50 percent of its assets in bonds, a threshold he would like to see halved. The manager wants the fund's maximum investment in stocks to be increased to 50 percent from 40 percent, and in real estate to 15 percent from 10 percent.
The fund manager has met regularly with officials from France's economy ministry to argue for a change in the pension pot's asset allocation restrictions, but with little success.
"The inertia you have to overcome is so dramatically high," he said. "Politicians here have no culture of market-driven finance. They don't understand how markets are important for allocating capital to where it's needed."
Reform of the trust's mandate is unlikely before France's presidential election next year because the government will be preoccupied by the vote, Desfosses said. The French government didn't respond to calls and e-mails seeking comment on the fund's mandate. 
Safety First
Its default position is likely to be against changing the restrictions because European pension funds tend to have a safety-first approach and favor investing in bonds, said Francois Barker, head of pensions at law firm Eversheds.
The RAFP fund, which started in 2005 and is expected to grow to about 50 billion euros by 2026, currently invests 25 percent of its assets in stocks, 7 percent in real estate and 63 percent in bonds, according to the latest figures on its website.
Since Trump won the U.S. presidential election, 10-year U.S. Treasury yields have risen by more than 40 basis points and on Monday climbed to the highest this year.
"It's a knee-jerk reaction," Desfosses said. "I don't think we'll be back to normal rates for a long time."
— With assistance by Donal Griffin
Before it's here, it's on the Bloomberg Terminal.
LEARN MORE