American Steelmakers See an Election Boost
"Electing Donald Trump, that's the icing on the cake."
By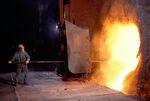 When Donald Trump presented his infrastructure stimulus plan last August, executives at America's leading steelmakers, including U.S. Steel, Nucor, and AK Steel, knew that no matter who won the presidency, their industry would benefit. "We have bridges that are falling down," Trump said in an interview at the time, as he committed to double the $275 billion promised by Hillary Clinton for similar projects. "I don't know if you've seen the warning charts, but we have many, many bridges that are in danger of falling."
It's not just bridges. During the campaign, Trump said his top priorities would include the country's highways, tunnels, airports, and electrical grid, all in need of repair. He threatened to penalize China for steel imports, which in 2014 rose to their highest level since the financial crisis, according to China's Customs General Administration. The United Steelworkers say imports have contributed to factory job losses.
Trump's win has further lifted investors' hopes for the industry. The Bloomberg Americas Iron/Steel Index, which tracks the value of North and South American-based iron ore and steel producers, jumped 15 percent the week of the election, its biggest weekly gain in eight months. "The U.S. steel industry should stand out as a unique beneficiary of a Trump presidency," said Seth Rosenfeld, an analyst at Jefferies, in a note to investors the day after the Republican's surprise win.
It's not yet clear which companies will gain the most from Trump's plan. In a June speech at a scrap facility in Pennsylvania, the Republican candidate promised to create jobs for "American-produced" steel but offered no details. "It's going to be very dependent on the size of the infrastructure plan, how it's funded, and ultimately what it's comprised of," says Curt Woodworth, an analyst at Credit Suisse. Big bridge and road projects would benefit larger producers of rebar, which is used to reinforce concrete, such as Nucor and Steel Dynamics, he says; improvements to the electrical grid would mean more business for copper producers such as Freeport-McMoRan.
The U.S. is a net importer of steel—American producers don't make enough to meet all of the country's construction demands. Domestic producers have struggled in recent years, as a slowdown in China's economy has led its producers to offload excess supplies, contributing to a flood of cheap material on the global market. Meanwhile, increasing American demand and a strengthening U.S. dollar have attracted more imports, pushing prices to historical lows in late 2015.

Infrastructure projects will raise demand, but only 3 percent to 5 percent of steel demand goes to big projects, Woodworth says. Infrastructure spending as a percentage of overall steel consumption has dropped over the last 20 years, according to Credit Suisse.
The presence of Dan DiMicco among Trump's economic advisers may give the industry an even louder voice. DiMicco, a former chairman and CEO of Nucor Corp., the largest U.S. steelmaker, laid out what he termed the "Trump Trade Doctrine" in an Aug. 20 op-ed piece. The doctrine includes tests on trade accords and readiness to use defensive tariffs.
Tougher enforcement of trade policies to limit the impact of steel from China and other countries could help more than infrastructure projects, Woodworth says. Over the past year, U.S. Steel, Nucor, and AK Steel, among others, have made significant headway on this. The companies filed and won several cases with the U.S. Department of Commerce and the U.S. International Trade Commission, arguing that China illegally subsidized some varieties of steel products and sold them at unfairly low prices in the U.S.
"We have better balance sheets and substantially better underlying businesses than we had a year ago," says Lee McMillan, an analyst at Clarksons Platou Securities in New York. "Electing Donald Trump, that's the icing on the cake."
George Magnus, an economic adviser at UBS, says China's $11 trillion economy stands to lose from a more protectionist American policy. President Xi Jinping told Trump in a congratulatory message that he wants the nations to continue to work together "in the spirit of nonconflict, nonconfrontation, mutual respect, cooperation, and win-win." Chinese Foreign Ministry spokesman Lu Kang has echoed Xi's "win-win" sentiment.
U.S. steel executives are watching closely. John Ferriola, chief executive officer of Nucor, America's biggest steel producer, says he and his company look forward to working with the new administration and Congress. We "hope they live up to their commitments, both on infrastructure and on strongly enforcing the rules of free trade."
The bottom line: Tougher enforcement of trade policies and $550 billion in infrastructure work are improving the outlook for America's steelmakers.
Before it's here, it's on the Bloomberg Terminal.
LEARN MORE