Ackermann Sees No Legal Basis for Returning Paid-Out Bonuses
By and
Ackermann discussed forfeiture of unpaid bonuses with bank

Ex-CEO Regrets break with bank comments about predecessors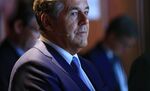 Former Deutsche Bank AG Chief Executive Officer Josef Ackermann said he sees no legal basis for the company to force senior executives to return bonuses that have already been paid out, after a German newspaper reported it was weighing such a move.
"Paying back bonuses isn't at all up for discussion," Ackermann, 68, said at a conference organized by Sueddeutsche Zeitung in Berlin on Thursday. "The question is whether parts that were not paid out can be released or left in the bank."
Ackermann, CEO from 2002 to 2012, overhauled the management structure to centralize decision-making and continued a push to make the bank a top securities firm. He steered Deutsche Bank through the 2008 credit crunch and ensuing European sovereign-debt crisis without taking direct state aid. The company's fortunes have worsened since he left as misconduct fines mounted and stricter capital rules eroded profitability from bond trading, its largest source of revenue.
John Cryan, the current CEO, has said previous management teams made the bank too complex and inefficient by putting short-term earnings ahead of Deutsche Bank's long-term interests. Sueddeutsche Zeitung reported earlier in the day that the bank is assessing whether it can reclaim both paid and unpaid bonuses. The newspaper didn't cite anyone and a spokesman for the company declined to comment on the report.
Broken Tradition
"We also lost a massive amount of money on the outstanding portions," Ackermann said of bonuses due to senior executives. He has been discussing the issue of bonus forfeiture with the company for two years and said he has told Supervisory Board Chairman Paul Achleitner that he "would do exactly the same thing" in Achleitner's position.
"I've demonstrated on multiple occasions that I'd be ready to show support for a bank which is in difficulty," Ackermann said.
He added that "it is an important tradition not to speak about predecessors and successors" and that he regrets a recent break with that tradition at the bank. While that doesn't mean that mistakes should be swept under the carpet, "you never heard a word from me on what I inherited," he said.
Cryan has called Deutsche Bank an "endemic underperformer" and told analysts in July that he won't deviate from taking tough decisions, because "we did this in the past and it led to many a failed restructuring."
Ackermann said he made mistakes, such as underestimating the interdependency of the financial system and asking questions about the industry's future at too late a stage. Still, neither he nor his family have a problem with his reputation, he said, adding that "if you can't stand the heat, stay out of the kitchen."
— With assistance by Steven Arons, and Karin Matussek
Before it's here, it's on the Bloomberg Terminal.
LEARN MORE