Your Evening Briefing
Here are today's top stories.
Bloomberg News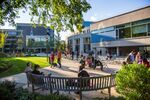 Want to receive this post in your inbox every afternoon? Sign up here.
To those wondering "Should I go to grad school?" the answer is more nuanced than a simple "yes" or "no." An MBA can provide access to impressive networks and the most desirable jobs in the market. On the other hand, it can wipe out savings and swell debt.
Bloomberg's annual ranking of the best U.S. business schools is based on data compiled from more than 1,000 recruiters, 15,000 alumni, and 9,000 recent graduates. And although it may not offer that "yes" or "no," it can help determine whether it's worth the money. —Megan Hess
The best business schools in America. How do you find the business school that will make you stand out in the job market and justify the huge expense? To guide you, here's our annual ranking of full-time MBA programs in the U.S.—plus how to calculate the "real cost."
Humans aren't just changing the climate, we're changing "life itself." While the earth has warmed barely a single degree Celsius, virtually no place on the planet is unaffected by climate change, according to a new study published in the journal Science. The chemical and physical stability of many ecosystems, and therefore biodiversity, are under assault. But that doesn't mean all hope is lost.
The crackdown on alt-right Twitter accounts. The social network suspended some accounts associated with the alt-right movement—an ideology that's been associated with white supremacist views—as it added tools to curb abuse and harassment this week. Twitter has for years faced criticism for its hands-off approach to the rampant abuse and harassment on its service.
United adds a new option for budget travelers. The airline will begin selling its "basic economy" fare in January, which means the very cheapest tickets… if you're willing to forgo almost everything else about your flight. Those fliers will board last and won't be allowed to store a bag in overhead bins.
Sexual harassment at work is as bad as ever. Many of us want to believe we live in a post-Mad Men era, but in many ways, we don't. On this week's Game Plan podcast, Bloomberg reporter Claire Suddath discusses her conversations with almost 20 women who experienced various forms of harassment at work. "When I started asking people about this, I got a flood of responses unlike anything that I have ever gotten for any other story that I've worked," she said.
Mexico's governors keep mysteriously disappearing. The former governor of Veracruz state went underground last month after being accused of looting billions in taxpayer money. He's hardly the first. Crooked governors have evaded the law for decades in Mexico, either through agreements struck with presidential administrations or an inability of law enforcement to seize them, says the former head of international operations for the U.S. Drug Enforcement Administration.  
The latest luxury real estate must-have: bathrooms with a view. Imagine lying in the bathtub and looking up at the sky (while you're still inside, of course). Increasingly, what was once a handy way to maximize dead square footage has become a stand-alone selling point. High-end developments now place bathrooms in prime locations, where they can enjoy maximum light and the best-possible views.

Before it's here, it's on the Bloomberg Terminal.
LEARN MORE