BOJ Fires Warning at Bond Market With Unlimited Buying Plan
By and
Benchmark yields had climbed at fastest pace since August

10-year touched 0.035%, the first time since mid-February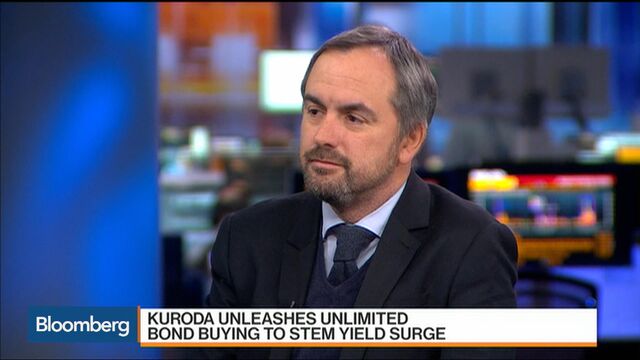 The Bank of Japan fired a warning shot at the government bond market Thursday, announcing its first operation to buy an unlimited amount of securities to maintain its yield-curve target.
The so-called fixed-rate operation yielded no offers, a sign that the move was more of a demonstration exercise than an intended transaction in notes. Officials acted amid relative calm in the market, but in the wake of a global bond sell-off in the past week that had driven up yields across the globe -- and in the process put pressure on Japanese government bonds as well.
"It's a surprise that the BOJ took action today," said Souichi Takeyama, a rates strategist at SMBC Nikko Securities Inc. in Tokyo, a unit of Japan's second-biggest lender. "Markets won't test levels above these fixed rates as these will be seen as reflecting the BOJ's upper limit."
Japanese 10-year notes turned positive this week for the first time since Sept. 21, the day Governor Haruhiko Kuroda announced a shift in policy aimed at pegging them near zero. An index of expected JGB market turbulence has surged to the highest since September's policy announcement amid bets U.S. President-elect Donald Trump's stimulus policies will drive up global inflation.

The central bank announced two operations, one to buy two-year notes at minus 0.09 percent, and another for five-year debt at minus 0.04 percent. They drew no bids. That came after two-year yields rose as high as minus 0.095 percent on Wednesday, up 18 basis points in five days. The BOJ introduced the tools after deciding in September it would control the yield curve.
See also: Trump's effect on bank bonds -- a Credit Markets Watch column
The 10-year JGB yield was at 0.01 percent as of 3:29 p.m. in Tokyo, after jumping as high as 0.035 percent on Wednesday, a level unseen since mid-February. It had fallen to a record minus 0.3 percent in July. The five-year yield was minus 0.1 percent, and that on the two-year security was minus 0.16 percent.
"The aim is to send a warning to markets about a significant surge in rates," said Keiko Onogi, a fixed-income strategist at Daiwa Securities Co. in Tokyo. At the same time, "there are questions as to why the BOJ conducted this operation now, when the market had already stabilized after the surge in yields to yesterday," she said.
Kuroda said in parliament following the announcement that the central bank won't automatically allow Japanese rates to rise if rates rise in the U.S. He reiterated the BOJ is aiming for a 10-year yield of "about" zero percent, and that it can't achieve a yield target of exactly one level.
In a footnote to its Sept. 21 statement on monetary policy, the BOJ said it stands ready to conduct fixed-rate JGB purchase operations at set or unlimited amounts "in case of a spike in interest rates" to prevent yields from "deviating substantially" from target levels.
Bonds worldwide lost more than $1.2 trillion last week, surpassing the taper-tantrum of June 2013 as the largest ever slump in market value, according to Bank of America Corp. indexes.
"The BOJ will have welcomed the rise in Japanese stocks and decline in the yen following the Trump Shock, but they've shown they aren't going to stand for a jump in JGB yields," said Naoya Oshikubo, a rates strategist at Barclays Plc in Tokyo. "It's the strength of that stance rather than the actual levels at which the BOJ offered to buy the debt that's pulling down yields."
— With assistance by Chikako Mogi
Before it's here, it's on the Bloomberg Terminal.
LEARN MORE