Univision Said to Cut Up to 250 Employees in Restructuring
By
Layoffs focus on employees at millennial-oriented Fusion brand

Executive says cuts needed to unite digital media properties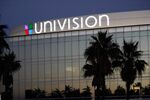 Univision Holdings Inc., the largest Spanish-language broadcaster in the U.S., is firing as many as 250 employees as it combines recent digital media acquisitions, according to a person familiar with the matter.
The layoffs will include cuts at Fusion, which targets millennial audiences in English and Spanish on cable TV and online, said the person, who asked not to be identified disclosing the scope of the cuts. Univision employed about 4,000 people as of March 31, according to filings.
The company is digesting several acquisitions of online businesses at the same time it's trying to go public, and struggling with shrinking sales and profit. In the third quarter, revenue fell 8.3 percent from a year earlier, partly due to tough comparisons, and adjusted earnings declined.
In a memo to staff Wednesday, Isaac Lee, Univision's chief news, entertainment and digital officer, said the cuts are part of "a broader streamlining of operations across Univision."
"Constantly adjusting our scale and our processes is a reality of the business we are all in," he said. "These necessary changes come as we look to strategically bring together several distinct digital media companies into one powerful and nimble digital publishing entity."
The cuts were reported earlier by the Washington Post. Univision, based in New York, confirmed that it "eliminated a number of positions in various areas of the company" and said it will be adding new ones in coming months "to support strategic growth areas," according to an e-mailed statement.
Younger Audiences
To attract younger audiences, Univision in August acquired Gawker Media LLC, owner of the female-oriented Jezebel website and technology site Gizmodo, for $135 million in a bankruptcy auction. In April, the company bought Walt Disney Co.'s half of Fusion. Univision also owns The Root, a digital magazine of black news and culture; the satirical website The Onion; and several other media properties.
Earlier this month, the editorial staff at Fusion voted to unionize, joining the Writers Guild of America, East. Lee said all digital employees at Fusion will still be represented by the guild. A guild spokesman said 15 digital employees at Fusion.net will be laid off.
Univision's broadcast network has seen its TV audience drop about 25 percent in the past year, highlighting changing consumer preferences among young Hispanic viewers, according to Bloomberg Intelligence.
Before it's here, it's on the Bloomberg Terminal.
LEARN MORE