U.K. Voters Want 'Impossible' EU Market/Labor Deal, Study Finds
By
Survey shows 90% back single market, 70% want migration curbs

Delivering both 'politically unavailable,' Dutch minister says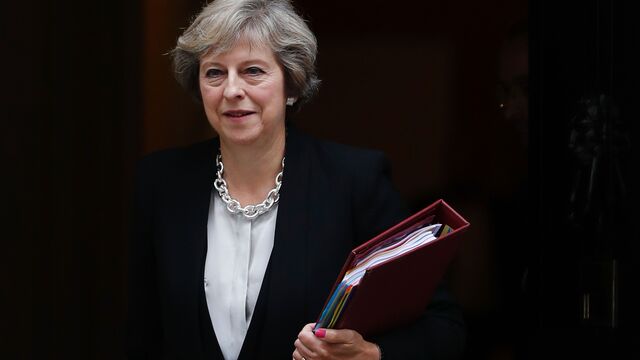 A large majority of U.K. voters want both access to the European Union's single market and limits on the free movement of labor, a combination that EU leaders have repeatedly said is not available as Britain leaves the 28-nation bloc.
A study for NatCen Social Research published Wednesday found 90 percent of adults want to retain access to trade in line with EU membership regardless of how they voted in the June 23 referendum. At the same time, 70 percent want limits on EU citizens living and working in the U.K., the survey of 1,391 voters found.
"The kind of deal that is most likely to prove electorally popular is one that maintains free trade but permits at least some limits on EU migration," said study author John Curtice, a professor of politics at the University of Strathclyde in Glasgow. "That, of course, is the deal that many in the EU insist will not be possible. In those circumstances, the U.K. government will be faced with a tough choice."
Attempts by Prime Minister Theresa May's government to find a way to deliver both curbs on immigration and market access for British companies are running into headwinds across Europe. Italian Economic Development Minister Carlo Calenda and Dutch Finance Minister Jeroen Dijsselbloem are the latest to say that it will not be possible and have accused May's government of being in disarray.
'Lots of Chaos'
"You can't say that it's sensible to say we want access to the single market but no free circulation of people. It's obvious that doesn't make any sense whatsoever," Calenda told Bloomberg Television. "There's lots of chaos and we don't understand what the position is."
Dijsselbloem told the BBC that British Foreign Secretary Boris Johnson's promises over market access are "intellectually impossible, politically unavailable." An Ipsos Mori poll for Wednesday's London Evening Standard newspaper found 48 percent of voters saying the government is handling Brexit badly, against 37 percent who say it's doing it well.
Wednesday's report emphasizes widespread confusion among voters over the options available as Britain quits the EU. May is under pressure from different factions in her government to deliver either a "soft" Brexit, which would see Britain remain in the single market and customs union, or a "hard" Brexit, whereby the country would be free to make its own trade arrangements.
Among the "soft" options, 65 percent of voters back British companies complying with EU design and safety standards, while 63 percent support EU banks trading in the U.K. in return for similar access for British banks -- so-called passporting rights -- in the bloc, the survey found.
Customs Checks
At the same time, aspects included in the definition of a "hard" divorce are backed by significant majorities. Customs checks for people and goods arriving in the U.K. from the EU are supported by 71 percent, including 55 percent who voted to stay in the bloc, the survey found, while 62 percent say visitors from the EU should not get free health care in Britain.
Voters were divided over the importance of the issues at stake in negotiations and where compromises should be made. While 70 percent of "Remain" voters would back free movement of people if it was the price for access to the single market, 70 percent of "Leave" voters said they would not.
Overall, 49 percent would back such a compromise while 51 percent would oppose it, a result very close to the 52 percent to 48 percent outcome of the referendum on EU membership.
"Irrespective of how they voted, voters in Britain do not feel that the U.K.'s exit from the EU should necessarily be a choice between a 'hard' or a 'soft' withdrawal. Rather, many back options on both menus," Curtice said. "But given that most 'Leave' voters –- and, indeed, a majority of Conservative voters –- prioritize limits on immigration over keeping free trade, perhaps we should not be surprised if that would be the choice that, if necessary, the U.K. government will be inclined to make."
The survey, part of the What U.K. Thinks: EU project, was carried out between Sept. 22 and Oct. 24 by telephone and online using a representative sample of voters who had already been interviewed face-to-face for the British Social Attitudes Survey.