U.K.'s May Urged by Europe to End 'Chaos' in Brexit Planning
By , , and
Italian minister says 'somebody needs to tell us something'

Johnson criticized for not understanding how EU works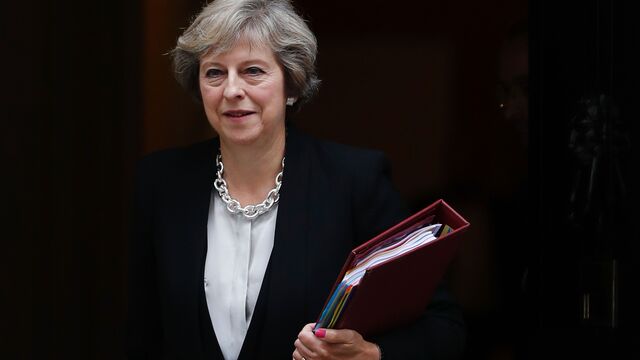 Prime Minister Theresa May came under international and domestic pressure to bring order to her Brexit strategy amid accusations it's in disarray.
"There's lots of chaos and we don't understand what the position is," Italy's economic development minister, Carlo Calenda, said in an interview. "Somebody needs to tell us something, and it needs to be something that makes sense."
Follow @Brexit for the latest news, and sign up to our Brexit Bulletin for a daily roundup.
Calenda was not alone in expressing concern that there is confusion and disagreement within the U.K. government on how to approach Brexit: 48 percent of respondents to an Ipsos Mori poll for the Evening Standard newspaper said May and her colleagues are handling the split badly.
Comments by Foreign Secretary Boris Johnson that the U.K. could quit Europe's customs union and still enjoy free trade were seized upon as evidence that May's government still doesn't grasp how the EU works or how its leaders will approach the looming divorce talks.
Johnson, who campaigned for Brexit ahead of the June referendum, also described as a "myth" the idea that freedom of labor movement is a fundamental right in Europe.
'Intellectually Impossible'
"He is saying things that are intellectually impossible, politically unavailable," Dutch Finance Minister Jeroen Dijsselbloem told the BBC.
Guy Verhofstadt, the European Parliament's representative on Brexit matters, posted on Twitter that he "can't wait to negotiate" with Johnson so he can show him the European treaty that forms the basis of how the bloc works.
The derision heaped on the U.K. came after May's office denied authorizing a report by Deloitte LLP which concluded another 30,000 civil servants would be needed to deal with the growing workload leading up to the start of negotiations. The consultancy also said its study had not been commissioned by the government.
Asked about Johnson and the Deloitte report at her weekly question-and-answer session in Parliament, May said that her government is working on a plan to get "the best possible trading relationship with the European Union once we have left" and that ministers are "absolutely united" in their determination to deliver Brexit. "The customs union is not just a binary decision," she said.
The difficulties May faces in reaching a deal that will satisfy the British public were underlined by a survey for NatCen Social Research, which found 90 percent of respondents wanting to stay in the single market but 70 percent wanting curbs on immigration from the EU. "That, of course, is the deal that many in the EU insist will not be possible," said John Curtice, a professor of politics at the University of Strathclyde in Glasgow.
'Hardly Anyone'
Former government minister Jim O'Neill told Bloomberg Television that he thought "hardly anyone" within the government was prepared for voters to choose Brexit in June, including those lawmakers who campaigned for it.
"The whole system doesn't really know what it's done to itself," said O'Neill, who stepped down from the Treasury in September.
The Institute for Government, a research group, also said Brexit was posing an "existential threat" to how the government operates and that the process appeared "chaotic and dysfunctional."
In his interview with Bloomberg Television, Italy's Calenda called on the British government to "sit down, put its cards on the table and negotiate."
He said that he had "loved" the biography of Winston Churchill written by Johnson, "but on Brexit we are on opposite sides." Johnson told him during a recent meeting that Italy would grant Britain access to the EU's single market "because you don't want to lose prosecco exports."
"He basically said, 'I don't want free movement of people but I want the single market,'" said Calenda. "I said, 'No way.' He said, 'You'll sell less prosecco.' I said, 'OK, you'll sell less fish and chips, but I'll sell less prosecco to one country and you'll sell less to 27 countries.' Putting things on this level is a bit insulting."
— With assistance by Alex Morales, Tim Ross, and Alessandra Migliaccio
Before it's here, it's on the Bloomberg Terminal.
LEARN MORE