Britain's Brexit Policy Chaos Is Unacceptable, Italy Says
By and
EU can't be held 'hostage' to Conservative Party debate

'No sense whatsoever' in single market without free movement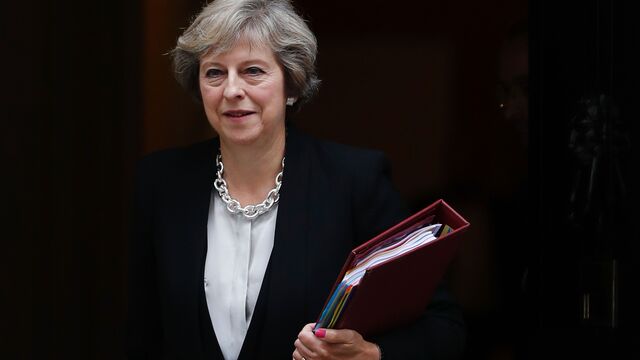 The British government's Brexit strategy is chaotic, and it's unacceptable for the European Union to be held hostage to the ruling Conservative Party's infighting for the next two years, said Italy's economic development minister.
"Somebody needs to tell us something, and it needs to be something that makes sense," Carlo Calenda said in an interview at his Rome office on Tuesday. "You can't say that it's sensible to say we want access to the single market but no free circulation of people. It's obvious that doesn't make any sense whatsoever."

The remarks by Calenda, a former Italian envoy to Brussels, provide a glimpse of the dismay in some EU political circles at the spectacle they perceive of U.K. government disarray and disagreement on how to approach the country's departure from the bloc. On Monday, officials denied authorizing a report that another 30,000 civil servants would be needed to deal with the growing workload leading up to the start of Brexit negotiations in March.
"There's lots of chaos and we don't understand what the position is," Calenda said. "It's all becoming an internal U.K. debate, which is not OK." The British government "needs to sit down, put its cards on the table and negotiate," he said.
Article 3
Foreign Secretary Boris Johnson Tuesday ruffled European feathers by telling a Czech newspaper that the U.K. could probably leave the region's customs union and still enjoy free trade. He also described as a "myth" the idea that freedom of labor movement is a fundamental right in Europe.
The customs union allows members to trade with each other tariff-free, while setting common duties on other nations, yet staying in it prevents the U.K. from striking its own trade deals. The question of participating in it has divided British Prime Minister Theresa May's government, with Johnson, Brexit Secretary David Davis and Trade Secretary Liam Fox agitating to leave and Chancellor of the Exchequer Philip Hammond counseling caution.
Guy Verhofstadt, the European Parliament's representative on Brexit matters, posted on Twitter on Tuesday that he "can't wait to negotiate" with Johnson so he could read him Article 3 of the Treaty of Rome, one of the central compacts of the EU signed in 1957 that established common duties and commercial policies toward third countries.
Follow @Brexit for the latest news, and sign up to our Brexit Bulletin for a daily roundup.
Dutch Finance Minister Jeroen Dijsselbloem said on BBC Television's "Newsnight" program that it would be "impossible" for the U.K. to be outside the customs union but still inside the single market, which focuses on reducing non-tariff barriers.
Johnson "is saying things that are intellectually impossible, politically unavailable," Dijsselbloem said, predicting Brexit would be a "lose-lose situation" for both the U.K. and EU.
'Great Inspiration'
Calenda told Bloomberg Television that he had "loved" the biography of Winston Churchill written by Johnson, "but on Brexit we are on opposite sides." Johnson told him during a recent meeting that Italy would grant Britain access to the EU's single market "because you don't want to lose prosecco exports."
"He basically said, 'I don't want free movement of people but I want the single market,'" said Calenda. "I said, 'no way.' He said, 'you'll sell less prosecco.' I said, 'OK, you'll sell less fish and chips, but I'll sell less prosecco to one country and you'll sell less to 27 countries.' Putting things on this level is a bit insulting."
Calenda said that a balance needs to be struck because the U.K. is a very important partner.
"I respect the British vote, England is to me a source of great inspiration -- as you can see from Winston standing there," Calenda said, pointing to a life-size cardboard cutout of Churchill in his office. The figure holds a sign reading in capital letters: "Tact is the ability to tell someone to go to hell in such a way that they look forward to the trip."
"Once you make a decision, you need to be clear in execution," Calenda said.
— With assistance by Kevin Costelloe, and Alessandra Migliaccio
Before it's here, it's on the Bloomberg Terminal.
LEARN MORE