Trump Defends 'Very Organized' Transition Amid Turmoil, Delays
By
President-elect on Twitter lists foreign leaders who've called

Hits media, says he hasn't sought top-level clearance for kids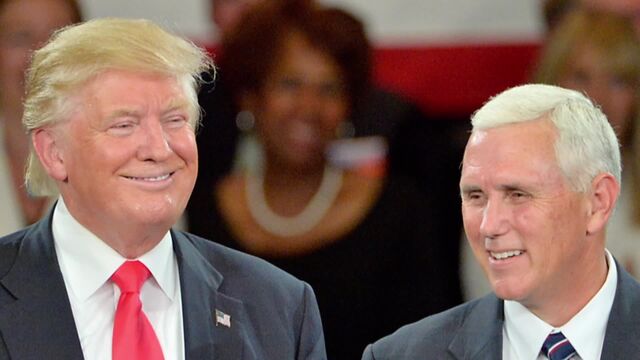 President-elect Donald Trump took to Twitter Wednesday to say his transition into the White House is "going so smoothly" as internal power struggles hindered his efforts to form a new government.
Trump denied he was seeking top-level security clearances for his children, rattled off a list of countries whose leaders he said called him, and bashed the news media, particularly the New York Times.
Since Trump's upset victory in the Nov. 8 election, he and his aides have turned to the task of building political and policy apparatuses across the U.S. government almost from scratch ahead of his January inauguration -- a steep job for any incoming president.
Turmoil inside Trump's team -- including the demotion of transition chief Chris Christie, who has friction with Trump's son-in-law, Jared Kushner -- has delayed transition work. When New Jersey Governor Christie was a U.S. attorney in 2004, he prosecuted Kushner's father.
Foreign Leaders
The Times reported Tuesday, after the abrupt departure of national-security transition adviser Mike Rogers, that "prominent American allies" were "scrambling to figure out how and when to contact" Trump, whose team was "working without official State Department briefing materials in his first conversations with foreign leaders."
About two days passed between the election and a call between Trump and Prime Minister Theresa May of the U.K., one of America's foremost allies, the report said.
The Times story "is so totally wrong on transition. It is going so smoothly. Also, I have spoken to many foreign leaders," Trump tweeted, listing Russia, the U.K., China, Saudi Arabia, Japan, Australia, New Zealand "and more."
"I am always available to them," he said. The Times "is just upset that they looked like fools in their coverage of me."
Security Clearances
Trump's team asked the government about the possibility of getting top security clearances for the president-elect's daughter Ivanka; Kushner, her husband; and Trump's sons Donald Jr. and Eric, CNN reported Tuesday, citing an unidentified transition source.
A low-level staffer who is no longer with the transition team made such an inquiry for the three children without authorization, ABC News reported Tuesday, citing an unidentified aide.
"I am not trying to get 'top level security clearance' for my children. This was a typically false news story," Trump tweeted.
Cabinet Choices
Amid the turmoil, Trump appears to be nearing decisions on several top appointments.
"Very organized process taking place as I decide on Cabinet and many other positions," Trump tweeted Tuesday night. "I am the only one who knows who the finalists are!"
Senator Ted Cruz of Texas is under consideration for attorney general, said a person familiar with the matter. Former New York City Mayor Rudy Giuliani is being discussed as a possible secretary of state. And Trump's team recommended former Goldman Sachs Group Inc. partner Steven Mnuchin for Treasury secretary, said two people familiar with the matter.
Before it's here, it's on the Bloomberg Terminal.
LEARN MORE