Putin Foe Navalny Says He's Free to Contest Russian Presidency
By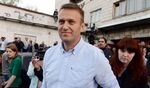 Russian opposition leader Alexei Navalny said he's free to run in presidential elections that could pit him against Vladimir Putin after the country's Supreme Court overturned his embezzlement conviction.
Navalny said the decision regarding a 2013 case that he's called politically motivated means that he has "the right to take part in elections" because he's no longer barred under rules that prevent felons convicted of serious crimes from running for office.
"Whatever plans the Kremlin has -- to let me take part in elections or not, to convict me again or not -- that doesn't interest me," Navalny said Wednesday in a statement on his website. "I'll carry on and fight this evil thieving authority with all available methods."
Putin is widely expected to seek a fourth term in presidential elections in March 2018, though he hasn't yet declared that he'll run. Navalny, a prominent anti-corruption campaigner, led the biggest anti-Kremlin protests of Putin's rule before the 2012 presidential elections amid anger at alleged ballot-rigging. He was given a five-year suspended sentence in July 2013 after being convicted of embezzlement in a case relating to the Kirovles timber company while he served as an adviser to the Kirov region's governor.
The Supreme Court quashed the conviction on Wednesday and ordered a retrial in a review of the case after the European Court of Human Rights ruled that Navalny didn't get a fair hearing. Navalny said the decision to order a retrial instead of closing the case meant that Russia wasn't complying with the European ruling.