Jim O'Neill Says Companies Must Invest More to Counter Populism
By
Ex-Goldman economist says firms should stop acting like banks

Says QE creates winners and losers, should be wound down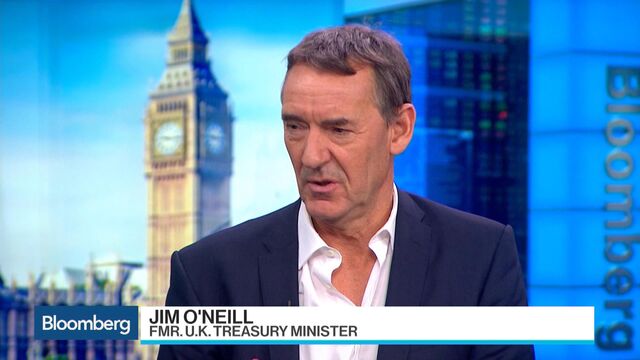 Former Goldman Sachs economist Jim O'Neill said corporate leaders and not just politicians have a role to play in responding to the rise in populist support across the globe.
Speaking on Bloomberg television, O'Neill said companies should "start behaving very differently," by focusing more on investment and less on enriching existing shareholders. For policy makers in the U.S. and elsewhere, that means changing incentives to encourage capital spending.

"A lot of companies spend so much time essentially behaving like banks," O'Neill said in an interview with Francine Lacqua and Tom Keene on Wednesday. "They'll manage their balance sheet in a really financially effective way and things like share buy-backs become a huge part of life."
"It doesn't make sense that so many companies can do that and not think seriously about investment," he said.
The rise in populism -- seen this year in Britain's Brexit referendum and Donald Trump's victory in the U.S. presidential election -- is threatening to spread in Europe in looming votes in Italy, France, Germany and elsewhere. It's an extension of the backlash against governments, central banks in the wake of the 2008 recession and perceptions of widening inequality.
Change Needed
For years, there's a "creeping rise of the share of global income going to corporations at the expense of labor," O'Neill said. "National political leaders have got to find a much better way of engagement, but corporate leaders have got to start behaving very differently than they have for much of the past 20 years."
He also said there have been winners and losers from loose global monetary policy and it's time for central banks to start winding down some programs.
"It's not obvious to me what the last couple of years of QE has really done in terms of materially helping," he said. "The more it went on, the more identifiable were the losers. We need to row it back."
O'Neill quit as the U.K. Treasury's commercial secretary in September after about a year in the role. On Wednesday, he cited its "time-consuming" nature, saying the role was "very demanding.
On corporate behavior, he said encouragement to spend doesn't have to mean aggressive restrictions on companies.
"You change the tax incentive, you don't have to smother them with regulation," he said. "You change the tax treatment to make it a lot harder to buy back shares when you get out of bed. You've got to have a proper purpose to do it."
Before it's here, it's on the Bloomberg Terminal.
LEARN MORE