Genocide Risks Seen in Burundi as Security-Force Killings Surge
By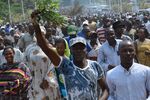 State suppression of government opponents along with ethnic discrimination are among conditions in place that may lead to a genocide in Burundi, the International Federation for Human Rights said.
More than 1,000 people have been killed in the East African country, mostly by security forces, since protests broke out against President Pierre Nkurunziza's rule in April last year, the Paris-based group, known by the French acronym FIDH, said in a report published Tuesday. Willy Nyamitwe, senior adviser to Nkurunziza, described the report as "ridiculous," according to a statement on his Twitter account.
Landlocked Burundi, which has 6 percent of the world's nickel reserves, has been roiled by violence since Nkurunziza decided last year to stand for a third term as president. Opponents say his candidacy violated a peace accord that brought him to power a decade ago.
A crackdown by the state on political opponents led to the detention of 8,000 people, left as many as 800 missing and forced 310,000 more to flee their homes, FIDH said. A security network has been established in the capital, Bujumbura, and throughout the country to supervise and control the population, as dissenters are pursued in neighboring states, while ethnicity is increasingly becoming an instrument of discrimination, it said.
"All the criteria and conditions for the perpetrating of genocide are in place," FIDH said in the report. "Ethnicity is sufficiently being instrumentalized for the current situation in Burundi to be called a repression with genocidal dynamics. Our organizations warn that these dynamics are intensifying and could lead to genocide in Burundi."
Nyamitwe said there's "no risk of genocide in Burundi," citing the nation's constitution, which provides for power sharing between the nation's Hutu and Tutsi ethnic groups.
Before it's here, it's on the Bloomberg Terminal.
LEARN MORE