Fed's Kashkari Says Election Hasn't Changed Economic Outlook Yet
By
Minneapolis Fed chief waiting for government to follow through

Sees more scope for financial reform in new administration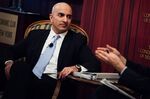 Big moves in financial markets since the U.S. election merit watching, though it's too soon to re-evaluate the outlook for the U.S. economy, said Federal Reserve Bank of Minneapolis President Neel Kashkari.
"It would really be something else if it took some kind of a political move to unleash the animal spirits, so to speak, and get people investing again," Kashkari, 43, said in an interview in New York on Wednesday. "It's too soon to draw a conclusion, but our eyes are open."
Kashkari, who took over the top job at the Minneapolis Fed in January and will hold a vote on the U.S. central bank's rate-setting Federal Open Market Committee next year, said he hasn't yet seen indications that the economy will break out of the slow-growth paradigm of the last few years. He said any change in the outlook based on the election will be contingent on observing actual steps taken by President-elect Donald Trump and the new Congress, where his Republican party retained control in the Nov. 8 election.
"Right now there is so much uncertainty about what the Congress will pass or not pass, what the president will propose," Kashkari said. "As a baseline, assuming a continuation of current fiscal policy has probably as good a chance as any other forecast that we are going to make up."
Greater Confidence
Kashkari said little has changed since policy makers last updated their forecasts for the economy in mid-September, stressing that he and his colleagues don't need to adopt an aggressive tightening stance until they have greater confidence that inflation will continue rising and labor-market slack has been used up.
"Two percent is a target, not a ceiling, so if we've been willing to tolerate 1.5 percent, 1.6 percent, for several years, we should be willing to tolerate 2.4 percent or 2.5 percent," he said.
Investors see a rate increase when the FOMC meets next month as a near-certainty, according to pricing in federal funds futures. They will get more information when Chair Janet Yellen addresses Congress about the economic outlook on Thursday.
Earlier Wednesday, Kashkari unveiled a plan the Minneapolis Fed has been working on this year to end the problem of too-big-to-fail banking in the U.S. by dramatically increasing capital requirements for the country's largest financial institutions.
Regulations Roll-back
Shares of the country's biggest banks have rallied 12 percent since the election, which Kashkari said may be due to expectations for a roll-back of regulations that has been pressuring bank profitability.
Kashkari, who indicated reforms haven't gone far enough, said the window to have the discussion about whether rules should go further and what form they should take is closing because the pain of the financial crisis will fade from people's memories as time passes. Still, the change in government provides an opportunity to have that discussion, he said.
"There is probably more appetite today to take a fresh look at our regulatory system than maybe we had expected a few weeks ago," he said. "If I had said it a few weeks ago, I would have guessed people would have looked at incremental changes to the path that we are currently on. Maybe now there is an opportunity to say, let's step back and let's just do a complete, fresh look at, are we headed the right way."
The Minneapolis Fed chief, who worked at the Treasury Department in former President George W. Bush's administration, said the Trump team has not reached out to him, and he is not looking for a new job.
"I'm very happy in Minneapolis. I'm not putting my hand up," Kashkari said. "But I would also just say that I don't think anybody should ever say never if the president of the United States says they need help with something."