Elusive Recovery Has Finland Preparing for Next Fiscal Push
By
Finance minister says stimulus needed amid insufficient growth

Says election of Trump piles uncertainty upon uncertainty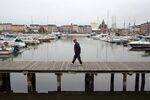 Finland's economy will need a fiscal push next year as Donald Trump's ascendancy to the U.S. presidency and the U.K.'s decision to leave the European Union add to an uncertain outlook for the euro area's northernmost member, its finance minister said.
"I'm happy that we have now reached a growth curve," Petteri Orpo said in an interview at his office in Helsinki on Tuesday. We have chosen not "to engage in more cuts despite the fact that we're generating deficit."

The center-right government is now watching the economy slowly drag itself out of a three-year recession. Earlier this year it forced through an agreement on lower labor costs designed to make Finland more competitive on the global stage.
Given the global headwinds to trade that have gathered over the horizon, Orpo and Prime Minister Juha Sipila have agreed to cut income taxes without waiting for a review of the labor pact's effectiveness, as originally planned.
Pending the approval of other structural reforms -- among them increased competition in the health care and transport sectors -- it amounts to a reversal of a previous austerity policy that had weighed on growth.
Euro Constraints
At the same time, the government insists it's not about to launch a major fiscal stimulus drive given the constraints imposed on its public finances by its membership of the euro area.

The European Commission has forecast a budget deficit of 2.4 percent of gross domestic product this year and of 2.5 percent in 2017. It also expects gross government debt to keep rising while the economy expands at a modest pace of 0.8 percent both this year and the next.
The European Union's executive arm has also cautioned Finland that it is "at risk of non-compliance" with the bloc's budget discipline rules, prompting Orpo's office to issue a statement Thursday warning that the government may have to "take corrective action, if necessary, to ensure that Finland's economy is brought back to a sustainable path."
Finland plunged into recession between 2012 and 2014 following the demise of Nokia's mobile phone business. A slump in its paper industry and falling demand from Russia have further stunted the export-driven economy.
Rooting for Trade
That's why failure to boost global trade through an agreement on the Trans-Atlantic Trade Pact would be detrimental for Finland, Orpo said.
The 47-year-old finance minister said the government is also working on new measures to meet its objective of increasing the employment rate to 72 percent. One proposal involves granting more freedom to businesses to set wages and working conditions.
"The measures we've taken so far are not enough," Orpo said of the labor pact agreed earlier this year. "We need help from global markets and as long as we don't get it we have to do our own measures."
That help from global markets is looking more elusive after the election of Trump, a vocal critic of free trade during the U.S. presidential campaign.
"The U.S. should see that Europe is a partner," Orpo said.
And with the outcome of the U.S. election adding to "the many uncertainties," Orpo hopes that "Trump will decide on his basic policies as soon as possible, in order to stabilize the situation."
Before it's here, it's on the Bloomberg Terminal.
LEARN MORE