Democratic Donors Regroup After Giving Millions to Losing Campaign
By
Democracy Alliance convenes top liberal donors including Soros

Members pledge to give at least $200,000 to progressive groups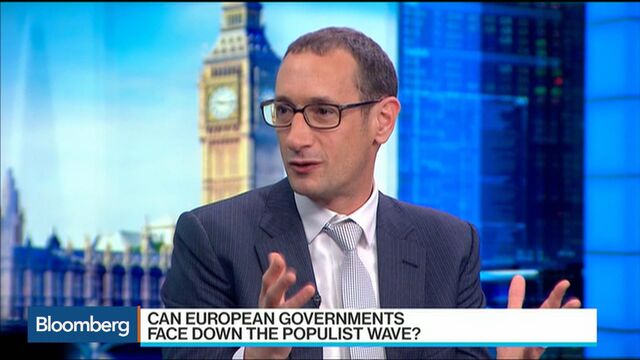 Major Democratic donors met in Washington this week to regroup after pumping millions of dollars into an election and winding up with a resounding loss. 
Most Democratic donors had expected the post-election gathering to be part celebration and part discussion about advancing a progressive agenda under the first woman president. Instead, they've been scrambling to figure out what went wrong and what they can do to defend liberal causes from a Republican-controlled legislature and the incoming administration of President-elect Donald Trump.
"We had a conference that we had to overhaul completely in three days," said Gara LaMarche, president of Democracy Alliance, a network of top liberal donors that convened in Washington. "Did anyone have the expectation that five days after the election we'd have a plan going forward?"
The plan so far is stopping President-Elect Donald Trump from rolling back progress on the gamut of liberal issues.
"Trump poses a danger to everything we stand for -- on budget and tax policy, climate change, abortion rights, and even things that we weren't expecting like the First Amendment," LaMarche said in an interview.
The twelve-year-old Democracy Alliance, which was founded to create progressive versions of conservative groups like the Heritage Foundation, convenes donors who contribute at least $200,000 to one of its recommended groups. Among them: the Center for American Progress, which was founded by John Podesta Clinton's campaign manager, and David Brock's Media Matters, which critiques news coverage from a progressive point of view.
The network's most prominent members include hedge fund manager Donald Sussman, who gave $21.8 million to Clinton's campaign and super-PAC, and George Soros, who contributed $11.8 million. Soros was the featured speaker at the conference's final panel of the meeting, which also included Senators Elizabeth Warren and Kirsten Gillibrand, pollsters, consultants and activists.
Member groups have seen their own agendas upended by the election. The Center for Community Change Action, which helped mobilize Latino voters in Colorado, Florida and Nevada, had a strategy in place to push for comprehensive immigration reform, something Hillary Clinton had promised to introduce in her first 100 days as president. Instead, they're working with local groups to address an emerging pattern of anti-immigrant incidents.
"The top level thing is we are working to address fear in the community," said Jeff Parcher, a spokesman for the group. "He doesn't take office until January 20, and there's a lot of work we can do to prepare," he said, referring to Trump's inauguration.
Parcher said the group has just begun to look for leverage points in Congress and the incoming administration to influence policy, a difficult task because Trump has yet to announce his cabinet and lawmakers haven't introduced new bills.
Many discussions at the conference centered on how to achieve goals that Democracy Alliance donors and grantees have identified in the past, including aggressively registering new voters and winning state legislative races. How to attract a higher percentage of minority voters to the polls is another concern, especially after many chose to stay home rather than turn out for Clinton and other Democratic candidates.
"One of the things we'll be doing very soon is to capture and catalog these efforts for our donors. It's happening so fast I'm not sure we have a complete picture," LaMarch said, adding that he's optimistic that the group will rally behind the cause. "Donor fatigue is more of a challenge in victory than defeat."
Before it's here, it's on the Bloomberg Terminal.
LEARN MORE