China Holdings of U.S. Treasuries Decline to Lowest Since 2012
By
Biggest holder of American govt debt held $1.16 Tln in Sept.

Japanese holdings fell for second straight month to $1.14 Tln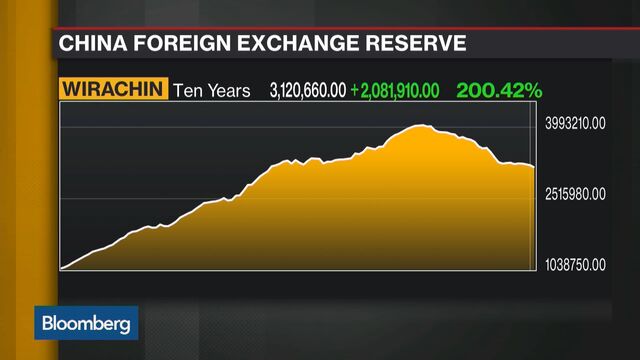 China's holdings of U.S. Treasuries declined to the lowest level in four years, as the world's second-largest economy runs down its reserves to support the yuan.
The biggest foreign holder of U.S. government debt had $1.16 trillion in bonds, notes and bills in September, down $28.1 billion from the prior month, according to U.S. Treasury Department data released Wednesday in Washington and previous figures compiled by Bloomberg. That's the lowest level since September 2012.
The portfolio of Japan, the largest holder after China, fell for a second straight month, down $7.6 billion to $1.14 trillion. The Treasury holdings of oil-producing Saudi Arabia declined for an eighth straight month, to $89.4 billion.
China's foreign reserves, the world's largest stockpile, are down to $3.12 trillion from a record $4 trillion in June 2014 amid support for the currency.
The report, which also contains data on international capital flows, showed net foreign selling of long-term securities totaling $26.2 billion in September. It showed a total cross-border outflow, including short-term securities such as Treasury bills and stock swaps, of $152.9 billion.
Net foreign selling of U.S. Treasuries was $76.6 billion in September and $3.21 billion in equities, while foreigners purchased a net $1.08 billion of corporate debt and $32.1 billion in agency debt, according to the report.