markets
Carney Growing Tired of the Global Central Bank Blame Game
By
BOE governor says there's a massive 'deflection exercise'

Fed Chair Yellen has been criticized by Donald Trump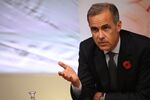 Mark Carney isn't willing to take the blame for the state of the global economy any longer.
After months of criticism leveled at him and his central banking colleagues across the world for low interest rates and the sluggish pace of growth, the Bank of England governor told U.K. lawmakers in London that it's time for them to face up to their role.
"The focus on monetary policy is a massive deflection exercise," he said at a Parliament hearing Tuesday. "It's very important to distinguish the stance of monetary policy and the reasons why global interest rates are low," he said, adding that "inequality is caused by much more fundamental factors."
BOE policy makers have come under particular scrutiny after cutting interest rates to a record low and expanding asset purchases in the wake of Britain's June vote to leave the European Union. With the U.K. performing better than the central bank predicted earlier in the year, some politicians accused Carney and his colleagues of straying into politics and talking down the economy.
Prime Minister Theresa May's comments last month that loose policy has "bad side effects" added fuel to the debate, sparking further criticism from members of her Conservative Party and sparking a debate about the BOE's independence.
Trump Accusations
It's not only Carney in the firing line. In the U.S., President-elect Donald Trump has accused Federal Reserve Chair Janet Yellen of being "highly political" and keeping interest rates low to benefit Democratic President Barack Obama. The European Central Bank has also faced condemnation for hurting savers, weakening banks and feeding the ascent of political populism.
While an improving economy in the U.S. has allowed central bankers to shift their attention to longer-term issues, the "intense" focus on monetary policy as a result of the financial crisis persists, according to Federal Reserve Bank of St. Louis President James Bullard.
"Unemployment is near the natural rates and inflation is near target, so from a stabilization perspective we've done very well," Bullard told reporters in London on Wednesday. "The rancor around global central banks, however, or the Fed at least, has not declined as much as I thought it might by this point, so there's still a lot to talk about."
Carney and ECB President Mario Draghi have argued that the prolonged period of low interest rates gave governments time to make changes to the labor market and social insurance programs that would spur growth in the long term. That's an opportunity they've largely missed while focusing on reducing budget deficits since the financial crisis.
Tough Decisions
"What I do not accept, there is a line of thought that is that central banks should not focus on their remit, they should tighten policy in order to force governments to take tough decisions," Carney said. "That is political."
One particular sticking point identified by the U.K. central bank governor is the U.K.'s house-price inflation, which some argue is being boosted by the BOE's 0.25 percent base rate. Carney doesn't share that view.
"House prices in the U.K. are high because there's no supply," he said. "The more we avoid this point, the more we pretend that the ills are the consequence of monetary policy. That's why I said earlier this is a massive blame deflection exercise. We're going to do what we have to do given the suite of all the other policies in place."
— With assistance by Scott Hamilton, Jill Ward, John Ainger, and Catherine Bosley
(
Updates with comments from Fed's Bullard starting in seventh paragraph.
)
Before it's here, it's on the Bloomberg Terminal.
LEARN MORE