S&P 500 Rises to Near Record After Yellen as Treasuries Retreat
By , , and
Yellen sees hike 'relatively soon,' plans to serve full term

Financial shares resume Trump-driven gains as hike odds jump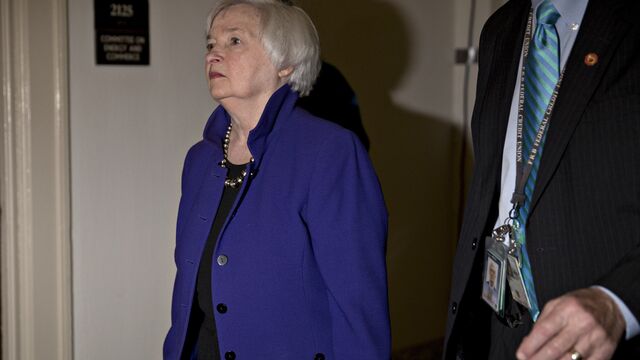 The S&P 500 Index neared an all-time high, rising with the dollar as Treasuries fell after Federal Reserve Chair Janet Yellen signaled the central bank is close to raising interest rates.
The U.S. stock benchmark rose to within four points of a record, and the Russell 2000 Index of smaller companies capped its longest rally since March 2013, while the Dow Jones Industrial Average gained despite a disappointing sales forecast from Cisco Systems Inc. U.S. government bonds slid after Yellen's comments and a wave of data that pointed to U.S. economic strength. The greenback's gains helped oil fall below $45 a barrel.
In her first public comments since the U.S. election, Yellen told lawmakers that the Fed is close to boosting borrowing costs as the economy continues to gain traction. The comments weighed on Treasuries, with yields on 10-year notes slipping to 2.29 percent. Bank stocks pushed their rally since Donald Trump's presidential victory back above 10 percent, while energy shares retreated. Speculation that Trump's administration will carry out fiscal stimulus continues to lift industries that are perceived to benefit from economic growth.
"A Trump victory could herald higher inflation, a roll back of financial regulation, higher spending and renewed attacks on the Fed's independence," said Michael Ingram, a market strategist at BGC Partners in London. "Having made some apocalyptic predictions in the event of Trump's victory, markets quickly took a 'glass half-full' view. The more appropriate question is 'What's in the glass -- champagne or cyanide?"'
Traders are betting a Trump presidency will quicken the pace of interest-rate increases, pricing in a 98 percent chance that the Fed will act next month, compared with odds of about 80 percent before the election. Reports Thursday showed U.S. housing starts jumped to a nine-year high in October, while jobless claims fell to the lowest level in four decades.
Stocks
The S&P 500 added 0.5 percent to 2,187.12 as of 4 p.m. in New York, the highest close since Aug. 15, when the gauge closed at a record 2,190.15. The Russell 2000 jumped 0.6 percent to a record, while the Dow Average gained 0.2 percent.
Earnings reports were also in focus. Best Buy Co. jumped 14 percent after its profit surpassed expectations, while Cisco slid 4.8 percent after predicting worse-than-estimated earnings and unexpectedly forecasting a decline in sales. Wal-Mart Stores Inc. and Staples Inc. dropped after reporting sales that missed estimates.
The Stoxx Europe 600 Index climbed 0.6 percent, the most in a week and erasing a slide of as much as 0.3 percent.
Bonds
Longer-dated U.S. government bonds led losses as Yellen told U.S. lawmakers Thursday that a rate hike could come relatively soon. The economy continues to create jobs at a healthy clip and is inflation inching higher, she said.
Benchmark Treasury 10-year yields climbed six basis points, or 0.06 percentage point, according to Bloomberg Bond Trader data. Thirty-year Treasury yields jumped eight basis points to 3 percent. Two-year yields added two basis points to 1.03 percent.
A bond-market gauge of expectations for U.S. consumer prices over the next decade climbed this week to the highest since April 2015. The measure, known as the break-even rate, which represents the extra yield investors demand on regular 10-year notes over similar-maturity TIPS, reached 1.97 percentage points. The difference has risen from below 1.2 percentage points in February. The debt pays interest on a principal amount that rises with consumer prices.
Currencies
The dollar climbed to a five-month high versus the yen as Japanese Prime Minister Shinzo Abe prepared to meet President-elect Trump in New York.
Traders are watching for any comments from Trump, who's accused Japan of currency manipulation. He and Abe will meet at 5 p.m. New York time, according to a Trump adviser. The U.S. currency was buoyed after Fed Chair Yellen said a rate hike could come "relatively soon."
"The fact that she didn't push back against market expectations for a December hike is perhaps the most significant takeaway," said Jack Spitz, managing director for foreign exchange at National Bank of Canada in Toronto. "The dollar is higher as a result."
The dollar rose 0.8 percent to 109.99 yen, after reaching 108.56 yen, the strongest level since the start of June. The Bloomberg Dollar Spot Index, which tracks the U.S. currency against 10 major peers, extended gains at its highest level since February. The gauge surged 2.8 percent last week, the most since September 2011.
Commodities
West Texas Intermediate oil for December delivery declined 0.3 percent to $45.42 a barrel on the New York Mercantile Exchange.
"The only that's changed from earlier today is that the dollar is stronger," said Tim Evans, an energy analyst at Citi Futures Perspective in New York. "The rising dollar appears to be triggering selling of commodities."
Copper rebounded, ending a two-day slide, amid signs of resilient demand from U.S. home builders.
On the London Meal Exchange, copper, zinc, lead and tin rose, while aluminum and nickel slipped. Meanwhile, a gauge of 18 base-metals producers tracked by Bloomberg Intelligence climbed 0.7 percent.
— With assistance by Emma O'Brien, Maciej Onoszko, and Anooja Debnath
Before it's here, it's on the Bloomberg Terminal.
LEARN MORE