Your Evening Briefing
Here are today's top stories
Bloomberg News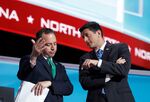 Want to receive this post in your inbox every afternoon? Sign up here.
Earlier this week, the top-searched word on Merriam-Webster's website was fascism. Definition:
A way of organizing a society in which a government ruled by a dictator controls the lives of the people and in which people are not allowed to disagree with the government.
Sometimes, but certainly not always, demagogues who go on to shape fascist societies begin as the head of populist movements.
Donald Trump's victory in the U.S. presidential election was a triumph of populism, defined by a belief that the virtuous common people have had their rights trampled on by the cultural elites or another group of "other." –Emily Banks
Populism takes over the world, from the Philippines to Greece to the U.K. When you first encounter the word "populism," you might think it's a close cousin of democracy, with all the same positive connotations. And for some, it may well seem a purer form of a process by which politicians harness the will of the majority. But that's only part of the picture, and America is only part of the current populist phenomenon.
Paul Ryan and Reince Priebus are longtime friends and allies, and the president-elect's appointment of the RNC chair to be his White House chief of staff was a key signal to House Republicans that Trump plans to try working with Ryan. Remember, that's the Trump attacked bitterly on Twitter several times in the final months of the campaign.
Apple is weighing an expansion into digital glasses, a risky but potentially lucrative area of wearable computing, according to people familiar with the matter. While still in an exploration phase, the device would connect wirelessly to iPhones, show images and other information in the wearer's field of vision, and may use augmented reality.
Trump could make money off the Secret Service. Electing a billionaire president carries all sorts of novel complications. One, for example, is Trump's fleet of two airplanes and three helicopters. If Secret Service agents fly on those planes, the president may get paid.
Russia had operatives in New York for years, from Wall Street to the UN. Now one is headed to prison. Evgeny Buryakov and his family lived in the melting-pot Bronx neighborhood of Riverdale. Of average height and build, Evgeny's only curious feature might have been his near-obsessive taste for McDonald's. But he was leading a double life.
Holiday season is upon us, but these days, what day isn't a holiday? When it's not Halloween or Thanksgiving or Christmas, it's Valentine's Day, St. Patrick's Day, National Margarita Day, National Siblings Day or National Pet Day. Companies have even created their own corporate holidays to get in on the action, such as Black Friday or Amazon Prime Day. In this week's Material World podcast episode, our hosts dig into the phenomenon of "celebration inflation."
Great sheets don't need to cost $1,000 or more. You can't put a price on a good night's sleep, although there are certainly brands that will try to charge you thousands for a mattress and sheets. Bloomberg's Moti Ankari test slept on a set from Peacock Alley, whose Virtuoso collection starts at $205, and said those were some of his best nights of sleep in recent years.

Before it's here, it's on the Bloomberg Terminal.
LEARN MORE