Emerging Markets Halt Decline as Trump Selloff Seen as Excessive
By , , and
Stocks, currencies rise for first time since U.S. election

Rand, ruble among best-performing currencies as rupee slides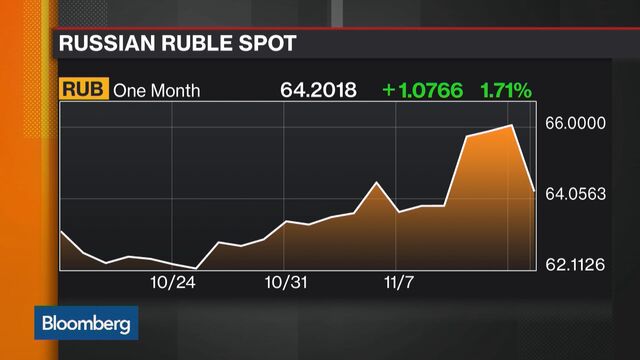 Emerging-market assets rose for the first time since Donald Trump's victory in the U.S. election as investors wagered a selloff spurred by speculation the new president will follow inflationary policies had gone too far.
A decline in U.S. Treasury yields helped sovereign bonds to rally in developing nations from India to South Africa. Mexico's peso strengthened for a second day and the rand advanced for the first time in five days. The Russian ruble climbed amid a recovery in oil prices. Oman's main stock index advanced the most in five weeks after Moody's Investors Service upgraded the outlook for the nation's banks. The Turkish market also got a boost from the shares of lenders.
Tuesday's rebound arrested a 7 percent slide in developing-nation stocks, half of this year's gains, and the worst four-day retreat since 2011 for currencies in the wake of concern Trump's spending plans will drive U.S. inflation and more frequent interest-rate increases by the Federal Reserve. That speculation, based on his campaign pledges, receded to the background on Tuesday as the president-elect was yet to outline his policies.
"Investors are venturing into emerging markets gradually as there has been some calming down in U.S. Treasury yields," said Simon Quijano-Evans, a strategist at Legal & General Group Plc in London. "As we move ahead, we have to assess Donald Trump's policies. While the relative growth picture in emerging markets is getting nicer, that can change overnight if there's a sudden change in global trade and net remittances.
The MSCI Emerging Markets Index rose 0.3 percent to 841.49. Financial and telecommunication-services companies led gains as seven of the benchmark's 11 industry group's advanced. The MSCI gauge of developing-nation currencies added 0.3 percent.
Top Movers
* The extra yield investors demand to own developing-nation debt over U.S. Treasuries fell after the biggest two-day spike in five years. The spread narrowed 16 basis points to 367 on Tuesday, according to JPMorgan Chase & Co. indexes.

* India's 10-year sovereign bonds climbed for fifth time in six days, sending the yield down 19 points 6.53 percent. Investors bet liquidity in the financial system will improve a week after the withdrawal of high-value currency notes and slowing inflation will lend authorities more room to lower benchmark interest rates.
* South African local-currency notes due 2026 rose for the first time in five days as yields dropped 14 basis points to 9.07 percent.
* The rand and the ruble helped lead a recovery in currencies, each strengthening at least 1.8 percent against the U.S. dollar.
* The Mexican peso rose 2.1 percent, building on yesterday's 0.8 percent increase. Investors are now expecting Trump to dilute some of his radical policies made on the campaign trail, alleviating concern his administration would curtail bilateral trade.
* Russia's RTS Index of dollar-denominated stocks gained 2.1 percent, its first rally in three days. The ruble added 2.2 percent to 64.62 per dollar. A selloff in the currency looked overdone, Sberbank CIB analysts said, projecting a gain to 65.
* Oman's MSM 30 Index climbed 1.2 percent. Moody's upgraded its outlook of the nation's banking system to stable from negative, saying lenders' credit profiles will remain broadly stable because of increased public spending.
* A gauge of expected volatility in emerging-market stocks rose for three days through Monday, reaching the level since June when the U.K. voted to leave the European Union.
Asset managers began lowering their recommendations on emerging-market assets this week. NN Investment Partners is now "underweight" stocks, currencies, local-currency bonds and hard-currency notes, strategist Maarten-Jan Bakkum said in London. The shaken sentiment also reflected in U.S. exchange-traded funds which invest in developing nations. The funds lost a combined $991 million on Monday alone, according to data compiled by Bloomberg .
"At some point, the emotions have to subside and the fundamentals will take over," said Phillip Hagedorn, who helps manage about $1.7 billion at ATR KimEng Asset Management in Manila. "We could see some stability coming in this week, but volatility these days tends to be heightened."
— With assistance by Elena Popina
Before it's here, it's on the Bloomberg Terminal.
LEARN MORE