China Set to Push Asia Trade Deal Harder After Trump Win
By and
China seeks to promote benefits of RCEP at APEC summit in Lima

Singapore may miss out the most if RCEP replaces TPP deal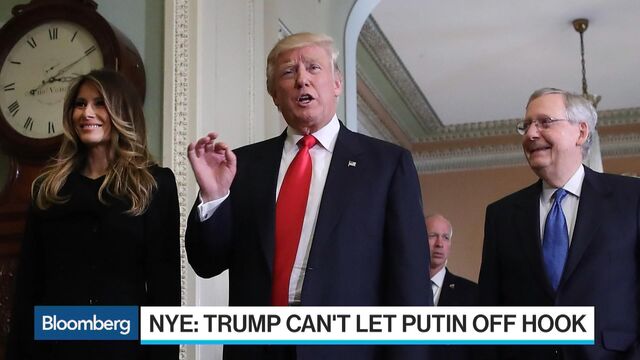 China's bid to assert its economic leadership is gaining traction in its push for an Asia-wide trade pact in the wake of Donald Trump's election victory, which dashed hopes for a U.S.-led deal that would have taken in about 40 percent of the global economy.
President Xi Jinping is expected to use this week's Asia-Pacific Economic Cooperation summit in Lima to gain momentum for the Regional Comprehensive Economic Partnership, which China has championed in recent years. Moving ahead on the pact, long designed as a counterweight to the Trans-Pacific Partnership from which China is left out, would give it greater economic prestige in a region where it is seeking to displace U.S. influence.
Japanese Prime Minister Shinzo Abe on Tuesday confirmed his nation is turning attention toward RCEP -- which would in turn omit the U.S. That's even as he plans to stop off in New York on Thursday en route to Lima to meet Trump and make a last-ditch sales pitch for the TPP.
With President-Elect Trump saying the Barack Obama-championed TPP would be "catastrophic" for the U.S. economy and Congress, and the chance of it passing in a lame duck session looking increasingly remote, its looming demise gives China an opportunity. Frustrated by a more protectionist U.S. backing away from its own pact, Asian nations may fall back on Xi's plan.
A China-led pact would be "a good option for those countries which rely heavily on free trade, including Australia, Singapore and Japan," according to Song Hong, a senior fellow at the Chinese Academy of Social Sciences, which advises the government on policy. "Facing Trump's protectionist stance and lukewarm global trade, the RCEP could be a new option."
Read more: A QuickTake explainer on the global rise in protectionism
The potential benefits from what the TPP or RCEP would offer countries like Japan are comparable, according to Capital Economics. While the RCEP would focus mainly on lowering tariffs, the TPP would seek to lower non-tariff barriers such as state support for government-backed companies and improving labor and environmental standards.
China is eager to get RCEP agreed to this year, but recognizes it is unlikely, according to a senior ministry official who has been involved in talks for the pact. Some countries would prefer to wait and see if TPP can somehow regain traction once Trump is in office, the official said.
A number of nations are cautious about the discussions around lowering tariffs on agricultural products, with others potentially opposed to changing negative lists on foreign investment, the official added. China will push Australia and Japan in particular to take the lead in moving forward, the person said.
'Beacon of Hope'
While the RCEP falls short of the lofty goals set for TPP, which was presented as a centerpiece of Obama's economic and military rebalancing to Asia, it may still represent a significant milestone, Hong Kong-based HSBC Holdings Plc Economist Joseph Incalcaterra wrote in a research note.
"The TPP was a beacon of hope in an environment of subdued trade activity and weak global growth," Incalcaterra said. "Despite drawbacks, the RCEP should help boost trade volumes across Asia and spur investment in new supply chains."
The RCEP, which would be the first pan-Asian trade deal ever, was launched by the Association of Southeast Asian Nations in 2012, and has gone through 15 rounds of negotiations. These have been looking to accommodate India's fears of a widening trade deficit with China, as well Japan's reluctance to open its agricultural sector.
The 16 countries involved in RCEP include all 10 members of Asean as well as China, Japan, India, South Korea, Australia and New Zealand. They represent about 30 percent of global gross domestic product and almost half the world's population. Some had already signed up for the TPP. As for the five TPP signatories in the Americas, they would be left out.
APEC Talks
"It's safe to say that we will shift focus to RCEP should the TPP not go ahead," Abe told lawmakers in Tokyo on Tuesday. He will convey his thoughts on free trade to Trump, having previously said it was "unfortunate" that protectionism was on the rise in the U.S.
As well as RCEP, China is backing a broader Free Trade Area of the Asia Pacific, which according to Australian Trade Minister Steven Ciobo will be on the agenda at APEC this week.
"It looks at the existing barriers to trade and investment flows between APEC economies and sets out the next steps as we work to bring this ambitious undertaking to life," Ciobo said in an e-mailed statement on Tuesday. "A high-quality FTAAP would facilitate greater market access, through a more level playing field for Australia's exporters and suppliers."
China commissioned a strategic study by APEC countries into the FTAAP at the Beijing summit in 2014, which it's due to release this year. But with a Trump administration eschewing TPP, FTAAP would also appear to be a long shot.
Read a BNA analysis of the Trump shadow over the APEC summit
HSBC's Incalcaterra estimates RCEP could be a solid consolation plan for Vietnam, which was widely seen as most likely to get an immediate economic boost from TPP. It stands to gain from increased sourcing of production from Japan, South Korea and China.
Singapore may be the country that gets the least benefit from RCEP, as it already has free-trade agreements with other member nations, according to HSBC.
The prospect of trade tensions between China and the U.S. has caused unease, especially with Trump's campaign threat to hit Chinese imports with tariffs. Such a move would be bad for the global economy, according to Australian central bank Governor Philip Lowe.
Anything that endangers free trade is "a huge threat to our economy," Lowe said after a speech in Melbourne on Tuesday evening, adding "I hope wiser heads will prevail here."
— With assistance by Keith Zhai, Michael Heath, Miao Han, and Shamim Adam
Before it's here, it's on the Bloomberg Terminal.
LEARN MORE