Trump Is Bittersweet for Bank Bonds as Crisis Risks Recalled
By and
T. Rowe Price says Dodd-Frank end gives short-term boost

Looser rules 'should be bad for bank bonds': CreditSights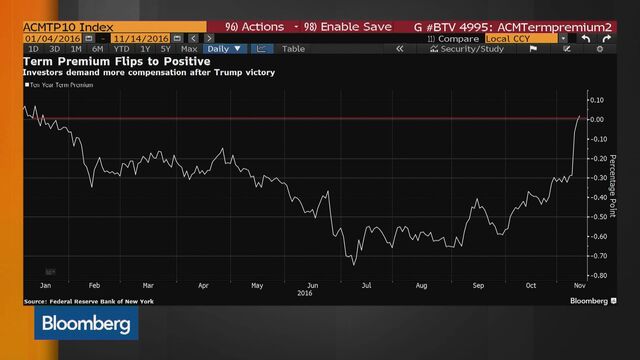 Donald Trump's vows to dial back Wall Street regulations may boost bank bonds in coming months while cursing them in the longer run.
That's the view of some investors after the U.S. president-elect's transition team said he plans to dismantle the Dodd-Frank Act, the post-crisis reform law designed to curb the risk that banks take. Loosening those rules may boost bank profits but could also embolden the companies to become more aggressive, tarnishing the appeal of U.S. dollar notes whose 29 percent returns in the past five years beat the 26 percent gains for global corporate debentures, according to Bank of America Merrill Lynch indexes.
"A repeal of Dodd-Frank would be a better earnings story for banks in the short term, but it could certainly introduce headwinds to credit quality longer term," said Steven Boothe, a Baltimore-based money manager at T. Rowe Price Group Inc, which has $812.9 billion of assets under management.

Dodd-Frank, Basel III rules and other regulations have forced large lenders to hold more capital, maintain higher levels of liquidity, limit bets made with their own money, and take other steps to insulate them from failure. That potential safety helped make banks one of the best performing industries in U.S. corporate bonds last year. A watering down of capital rules would be a negative for credit investors, said David Marshall, a senior analyst at research firm CreditSights Inc. in Singapore.
"The suggestions that Trump will lighten up on bank regulation may be seen as good for banks, but this is better for bank equity investors than their bond investors," Marshall said. "It should be bad for bank bonds because from the view point of creditors it would be good if a bank could have a larger amount of common equity and other capital instruments to absorb losses and therefore protect those other creditors, particular senior creditors, from losses."
Trump's election has hurt other kinds of bonds, including government debt. More than $1 trillion was wiped off the value of notes globally last week, amid concerns that inflation will pick up.
For now, investors are looking at the potential positives: Trump policies including tax cuts and more than $500 billion of infrastructure spending could stimulate lending and stoke inflation, which could increase the profitability of loans and help financial companies' earnings. The extra yield money managers demand to hold dollar bonds from banks has dropped to its lowest level of the year, and in equities the KBW Bank index jumped more than 13 percent from the Nov. 8 election through Monday. 
Click here for a QuickTake on what Trump might mean for Wall Street reform law.
The greater prospects for lender profits means risk premiums, or spreads, for financial institution bonds should narrow further, according to Darren Ruane, the head of fixed income in London at Investec Wealth & Investment Ltd., which has been buying riskier junior bank debt since Trump's victory. Investec's wealth management arm had around 27.6 billion pounds ($32.1 billion) of assets under management as of the end of March.
"If banks go back to the way that they were, there might be some concerns that they could be more vulnerable," Ruane said. "But I think that is looking at it a couple of steps down the line."
— With assistance by Denise Wee, Ruth Liew, and Harvard Zhang
Before it's here, it's on the Bloomberg Terminal.
LEARN MORE