Treasuries Rally as Biggest Global Bond Rout Since 2003 Pauses
By
Technical indicator shows notes were most oversold in 26 years

Daiwa SB, Mirae say it's not yet time to buy Treasuries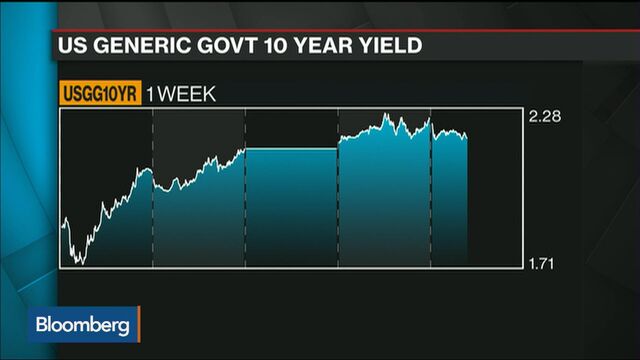 Treasuries rose as investors questioned how much extra spending President-elect Donald Trump will be able to implement, halting a selloff that put global bonds on track for their worst month in 13 years.
U.S. 30-year yields surged past 3 percent Monday, fueling speculation the level is high enough to compensate investors for a pickup in inflation expectations and forecasts for the Federal Reserve to raise interest rates next month. A technical indicator showed 10-year Treasuries were the most oversold since 1990.

"To promote an even greater selloff in yields we're going to need to see actual inflation pushing up, actual growth being more positive, and some of these policies that Trump has proposed being put in place," said Peter Jolly, head of market research at National Australia Bank Ltd. in Sydney. "I don't think we're finished seeing, necessarily, the end of the selloff."
The U.S. 30-year bond yield fell four basis points, or 0.04 percentage point, to 2.97 percent as of 7:04 a.m. in New York, based on Bloomberg Bond Trader data. The price of the 2.875 percent security due in November 2046 rose 27/32, or $8.44 per $1,000 face amount, to 98 5/32. Ten-year yields dropped five basis points to 2.22 percent.
European bonds also rebounded, with yields on Spanish 10-year securities falling seven basis points to 1.45 percent, after reaching the highest since the aftermath of the Brexit vote on Monday. Italy's 10-year bond yields also declined.
Global Rout
Trump's election sent bond yields surging around the world, driven by speculation his spending plans will boost inflation and the size of the U.S. debt while leading the Fed to pick up its pace of rate increases. Bank of America Corp.'s Global Broad Market Index fell 1.6 percent in November through Monday, headed for its biggest monthly loss since July 2003.
Economists predict U.S. data Tuesday will show import prices and retail sales both rose in October, while manufacturing in New York state fell this month, based on Bloomberg surveys. There's a 92 percent chance the Fed will raise rates in December, futures contracts indicate.
Technical Indicator
The relative-strength index for 10-year yields rose to 83 on Monday, the highest level since 1990, with a number above 70 a sign to some traders the move has gone too far. The indicator was at 78 on Tuesday.
While similar readings in the past have presaged a reversal in yields, notably in 2012 and 2015, it is does not always prove a reliable predictor. During 2013's so-called taper tantrum, 10-year yields continued to climb, even as the gauge showed bonds were oversold.
Some investors said they're not yet ready to buy.
Kei Katayama at Daiwa SB Investments in Tokyo said he's sticking with an underweight position in Treasuries amid the selloff. "It will continue a little bit more," said Katayama, who helps oversee $50 billion at the firm.
Mirae Asset Global Investments Co., overseeing $93 billion, is also waiting to buy. Enna Li, one of the bond investors for the company in Taipei, said the decline may be over, though she's wants to see further gains before moving money into Treasuries.
Before it's here, it's on the Bloomberg Terminal.
LEARN MORE