Returning Banned Bills at an Indian Bank? Prepare to Be Marked
By and
Banks to mark people with indelible ink to check duplication

Cash shortage hits goods movement as drivers abandon trucks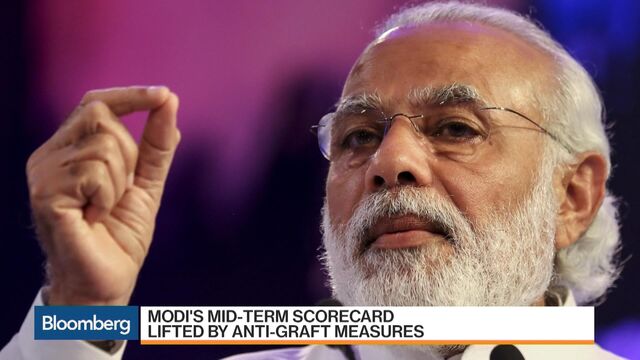 Indian lenders will mark people exchanging currency notes that Prime Minister Narendra Modi banned last week with indelible ink on their finger in an effort by the embattled administration to ease crowds thronging banks.
Millions have been lining up outside banks across India, prompting the government to announce a fresh set of measures to reduce queues. Authorities decided to mark individuals after lenders discovered that the same set of people were turning up at various bank branches to exchange cash, Economic Affairs Secretary Shaktikanta Das said in New Delhi on Tuesday. Modi in a surprise move last week decided to withdraw 500-rupee and 1,000-rupee notes, which accounted for 86 percent of money in circulation, in a bid to flush out unaccounted income, locally known as black money.
"We have received reports of certain unscrupulous elements who are trying to convert black money into white, have organised groups of innocent people and are sending them" to exchange cash, Das told reporters. "As a result, the facility of withdrawal of cash is getting restricted to a smaller number of people."
Modi's administration is battling to keep cash dispensing machines running and ease stress for people after past efforts failed to keep pace with the demand. Shortage of cash has resulted in truckers abandoning vehicles midway into their trip, disrupting movement of goods and eroding labor productivity in Asia's third-largest economy.
Lenders are reaching out to religious places to ask them to deposit funds given by devotees in a bid to bring currency back in circulation and ease the shortage, according to a statement from the Finance Ministry.
To understand why India banned high-denomination notes, click here
In a teary-eyed emotional appeal, Modi requested citizens to bear some pain and back the fight against corruption. Speaking in the poll-bound state of Uttar Pradesh on Monday, the prime minister defended his move to withdraw the notes and blamed the opposition of siding with people indulging in tax evasion. Television images showed Modi's nonagenarian mother queuing up to exchange her worthless notes.
The prime minister is seeking to fulfill his election promise of recovering illegal income. The government will take more steps to curb tax evasion, including action against benami property, he said at an event in Goa on Sunday. Benami is property owned by one person but held in the name of a third party.
The nation's lenders have received 3.25 trillion rupees ($48 billion) in deposits and disbursed or exchanged about 500 billion rupees, according the finance ministry. The government estimated that as much as 5 trillion rupees will remain unclaimed. Modi removed 15 trillion rupees of currency in circulation with his decision.
To understand the effect of the withdrawal of bills on the economy, click here
The government has also set up a panel for re-calibrating cash dispensing machines and stepped up availability of banknotes of all denominations. Until Sunday, cash machines operated at a quarter of their capacity as they were able to provide only 100-rupee bills from one of the four trays.
The shortage of cash has started to hit movement of goods as well. More than half of an estimated 9.3 million trucks under the All India Motor Transport Congress have been affected as drivers abandon vehicles mid-way into their trip after running out of cash, according to Naveen Gupta, secretary general of the group. India's roads carry about 65 percent of the country's freight.
"The situation is still grim and now we are getting information from various parts that drivers have started abandoning vehicles," said Gupta of AIMTC, the country's largest association of truckers. "Their basic needs like food are not being met because they can't use the cash to buy food and there is not enough cash with them anyway."
The government on Sunday raised the daily limit on withdrawals from cash dispensing machines to 2,500 rupees, while the weekly cap has been increased to 24,000 rupees. The limit of withdrawals from a current account held at banks has been increased to 50,000 rupees per week in a move to help small businesses pay wages, Das said. Old high-denomination bills will be accepted at places such as government hospitals, utilities and fuel stations until Nov. 24, he said.
To read a Gadfly column on Modi's move to withdraw bills, click here
It has also extended the suspension of tolls on national highways through Nov. 18, the Ministry of Road Transport and Highways said in a statement on Monday. This is the second time that an extension has been granted -- it first ran to Nov. 11, then until Nov. 14.
"If this continues for another week, movement of goods will come to a standstill," said Ramesh Kumar Gulati, national secretary of All India Transporters' Welfare Association. "We have to provide drivers with cash and we are facing severe shortage now."