Negative-Yielding Bonds Plummet to $8.7 Trillion After Trump Win
By
14% drop in one week follows October's less-than-zero plunge

Market value of such assets now down 28% from June's peak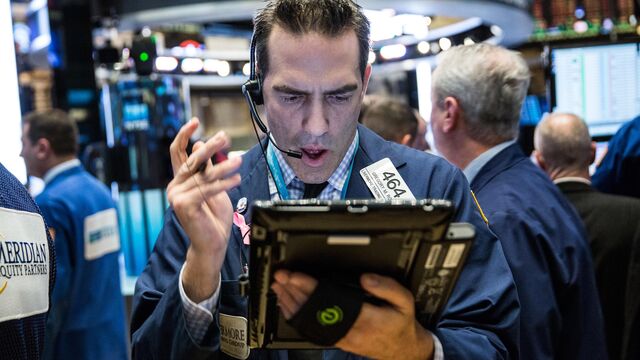 The market value of the world's negative-yielding bonds plunged 14 percent last week to $8.7 trillion as investors dumped government debt at a record clip after Donald Trump's upset win stoked speculation that his ambitious fiscal plan would flood the market with new Treasuries and boost inflation.
The $1.4 trillion decline from Nov. 4 in the total amount of debt certain to lose money if held to maturity was fueled mostly by increased government-bond yields following the U.S. presidential election. The Bloomberg Barclays index of the prices for such debt worldwide fell 3.2 percent last week, the biggest decline since at least 2000, as far back as the data goes.
The total market value of negative-yielding bonds in the broader Bloomberg Barclays Global Aggregate Index, which also includes corporate and securitized debt, is down more than 10 percent from October's close and 28 percent from its June peak of $12.2 trillion, the culmination of an unprecedented two-year climb.

"Clearly it's the Trump effect and the market is speculating on a move toward a more expansionary fiscal stance," said Richard McGuire, head of rates strategy at Rabobank International in London. "Near term the path of least resistance is toward higher yields and steeper curves.
Japan, where policy makers have been trying to coax yields up since mid-September, remains ground sub-zero, accounting for 58 percent of the world's total, up from 54 percent a week ago. About 37 percent comes from Western Europe, with Germany, France and the Netherlands in the lead there. The decline on the size of the negative-yield market was steeper in developed Europe, where the value of such debt fell by more than a fifth, compared to a drop of less than 7 percent in Japan.

About 6.8 percent of the world's negative-yielding debt was issued by businesses, through corporate bonds and securitized debt, down from 8.2 percent the week before.

These totals include both new negative-yielding issues and bonds with prices that rose enough to push their yields into the money-losing zone. The Bloomberg Barclays Global Aggregate Index has a market capitalization of $46 trillion and includes investment-grade debt from 24 developed- and emerging-economy markets.
The benchmark gauge does not include maturities of less than a year, which tend to have lower yields, so the value of many short-term less-than-zero bonds aren't counted here. The totals are based on market values, which include accrued interest.