Modi's Money Crackdown Threatens India Corporate Profit Recovery
By and
Earnings at consumer companies, developers seen impacted

Cash ban has 'multiple' long-term benefits: Deutsche Bank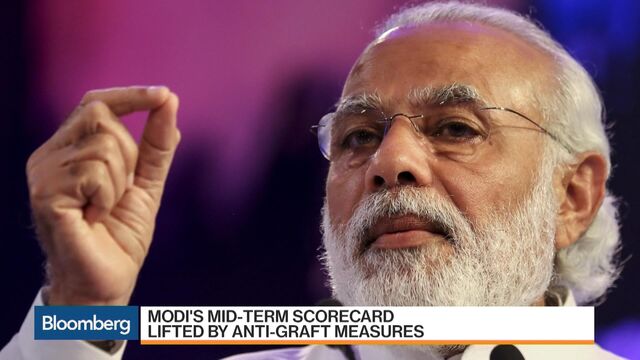 Prime Minister Narendra Modi's crackdown on black money may have an unintended consequence: a slump in consumer spending that hits India's corporate earnings recovery.
Investors are trying to gauge the impact on company profits after Modi's surprise recall of high-value currency notes last week. At risk is a strengthening earnings picture that has seen three quarters of gains, after operating profit fell in every quarter of 2015. Finance Minister Arun Jaitley said Nov. 9 the move will damp consumption in the short term, a belief that's helped send an index of consumer discretionary goods to a four-month low.
"The earnings revival will get delayed as the liquidity crunch will hit consumer-facing industries," said Nilesh Shah, chief executive officer of Mumbai-based Kotak Mahindra Asset Management Co., which has $9.5 billion in assets. The measure will "lead to a temporary squeeze in small-ticket consumption and discretionary spending," he said.
Economic expansion of above 7 percent, the $13 billion salary boost for government staff and a good monsoon after two years of drought had led investors to bet on company profit growth accelerating. Goldman Sachs Group Inc. in October forecast corporate earnings growth in India to outpace its regional peers in the year to March. The sudden decline in money supply has muddied the picture.

Modi's decision to withdraw 500 and 1,000-rupee notes, which accounted for 86 percent of the money in circulation, has virtually stalled the economy. While no one is predicting the anti-graft measures to push Sensex earnings into negative territory just yet, the move will disrupt segments of the economy such as property and gold where cash transactions play a vital role, analysts say.
"This move has multiple long-term benefits but in the near term it will lead to material transition-related uncertainty and can potentially disrupt several economic activities that have traditionally relied on unaccounted cash transactions," Deutsche Bank AG analysts Abhay Laijawala and Abhishek Saraf wrote in a note. There will be an "adverse" impact on shares of developers, cement producers and infrastructure companies, they said.
An index of real-estate companies tumbled to a seven-month low on Tuesday, while the S&P BSE Auto Index capped its biggest four-day loss since August 2009. The S&P BSE Consumer Discretionary Goods & Services tumbled the most in 14 months, extending last week's 6.4 percent retreat that was the steepest in five years.
The benchmark S&P BSE Sensex gained 0.4 percent at 9:27 a.m. on Wednesday, rebounding from a five-month low. The gauge is still up 15 percent from its February low.
Deposits Surge
Even so, money managers including ICICI Prudential Asset Management Co., India's biggest, and SBI Funds Management Ltd. say the crackdown on illegal wealth will boost liquidity and open up room for more interest-rate cuts. Banks deposits have risen by $48 billion after last Tuesday's ban as customers rushed to deposit the old bills.
Slowing inflation allowed a panel led by Reserve Bank of India Governor Urjit Patel to lower the benchmark rate to the lowest in more than five years last month. A further reduction would help revive stalled infrastructure projects, according to S. Naren, executive director and chief investment officer at ICICI Prudential, which has $29 billion in assets.
"There may be temporary setbacks in the immediate term but investors should use such opportunities to increase their equity allocations," Naren said.
Operating profit for the Sensex companies has risen 12 percent in the September-quarter reporting season currently underway, after increasing 4 percent and 6 percent each in the previous two quarters, according to data compiled by Bloomberg. Net incomes at companies in the index may rise 20 percent over the next 12 months, the data show.
"The magnitude of the earnings recovery will not be as robust as expected earlier," Gopal Agrawal, chief investment officer at Mumbai-based Mirae Asset Global Investments (India) Pvt., said by phone. "The cash crunch will curtail consumer spending for the next three to six months."
Before it's here, it's on the Bloomberg Terminal.
LEARN MORE