Michigan's Romney McDaniel, Bossie Said Contenders for RNC Chief
By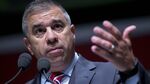 Michigan GOP Chairwoman Ronna Romney McDaniel and deputy presidential campaign manager David Bossie are the two leading contenders being considered by President-elect Donald Trump to lead the Republican National Committee, according to two senior Trump advisers.
Bossie, who was president of the conservative advocacy group Citizens United before joining Trump's campaign, is a favorite among some in Trump's inner circle, including Steve Bannon, who Trump named as a senior White House adviser.
Romney McDaniel, a niece of 2012 Republican presidential nominee and Trump critic Mitt Romney, was a key supporter of the president-elect's campaign in Michigan, which emerged as a battleground in the Nov. 8 election. Trump is likely to eke out a narrow victory in the state once the results are declared official, according to the Michigan secretary of state.
Reince Priebus, who had been RNC chairman, was selected by Trump to serve as his White House chief of staff. The president-elect typically has full control over the appointment of the leader of his party's national committee.
It's unclear when the decision will be made, according to the Trump advisers, who spoke on condition of anonymity to discuss personnel decisions.
Another name that has surfaced as a possible successor to Priebus is Corey Lewandowski, Trump's original campaign manager. Lewandowski stepped down from his position as a CNN contributor last week, fueling speculation that he would join the administration. Another potential contender is David Urban, who ran Trump's campaign in Pennsylvania. 
Before it's here, it's on the Bloomberg Terminal.
LEARN MORE