Merkel Hints at Revisiting EU Welfare Brake in Brexit Gambit
by , , and
Barroso says more could have been done to keep U.K. in EU

Merkel 'convinced' bloc can't budge on freedom of movement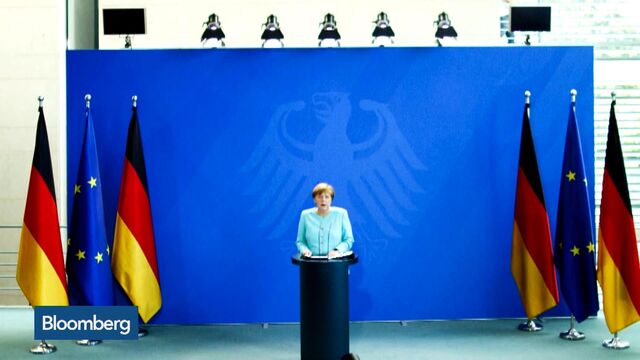 German Chancellor Angela Merkel suggested that the European Union should revisit a deal previously struck with the U.K. to curb welfare for migrants, as a former EU Commission head said more could have been done to keep Britain in the bloc.
Merkel, in a speech to employers in Berlin on Tuesday, was categorical in her refusal to consider any exception to the EU's rules on freedom of movement in the coming Brexit negotiations. But she raised the prospect of discussing "when this freedom of movement is valid."
Follow @Brexit for the latest news, and sign up to our Brexit Bulletin for a daily roundup.
"Freedom of movement is valid to me in the sense that a worker earns money for himself and his family in another country," she said. "The question of when lifelong guarantees come into effect according to the social standard of the host country must certainly be taken into consideration."
Merkel's comments hark back to an agreement among EU leaders in February to grant what then Prime Minister David Cameron called "special status" within the bloc aimed at enabling him to make the case for continued U.K. membership. The centerpiece of the deal was a seven-year "emergency-brake" period in which the U.K. could impose welfare curbs on other EU citizens arriving to work in Britain.
Cameron stood down after losing the June referendum following a campaign that was dominated by immigration, and the agreement was never implemented since it was only valid in the event of the U.K. remaining in the EU.
Blame Game
The chancellor's proposal still risks disappointing the U.K. Cameron's replacement as prime minister, Theresa May, has said that curbing migration is one of her red lines in the Brexit negotiations to start by the end of March.
"I think Europe could have done more to avoid a separation of Britain," Jose Barroso, the former commission president who is now an adviser to Goldman Sachs Group Inc., said in an interview in Riyadh, Saudi Arabia. "There also are huge responsibilities in London because when you are bashing the European Union for more than 20 years, you cannot expect people to change their minds in two months -- and that's exactly what happened."
In their deal, EU leaders granted the U.K. opt-outs including a permanent exemption from joining the euro, along with the right not to participate in any euro bailouts; an exemption from further moves to integrate the EU politically; some flexibility for the financial industry; and a greater EU commitment to boosting competitiveness by completing the single market.
On migration, leaders agreed on the need "to take account of a pull factor arising from a member state's in-work benefits regime." They proposed an amendment to "provide for an alert and safeguard mechanism that responds to situations of inflow of workers from other member states of an exceptional magnitude over an extended period of time."
However, they fell short of Cameron's demands. He had pressed for a benefits brake of 13 years, but ran into opposition from eastern European members.
While stressing the U.K.'s importance for the German economy, Merkel said she is "firmly convinced that we can't move on the fundamental question of freedom of movement."
"In the event that we make an exception for the U.K. on freedom of movement, this would mean that we endanger the foundations of the entire single market within the EU, because all the others would also want this exception," Merkel said. "That's why I think we need to have another discussion with the EU Commission on when this freedom of movement is valid."
Before it's here, it's on the Bloomberg Terminal.
LEARN MORE