business
Malaysia Airlines Mulling Purchase of 25 Widebody Jets Next Year
By
Looking to replace aging planes with A330s, A350s and B787s

CEO Bellew sees unprecedented tourism opportunity in China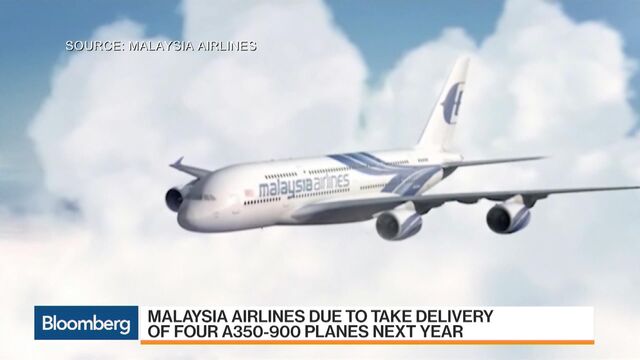 Malaysia Airlines Bhd. is considering ordering as many as 25 widebody aircraft as the nation's flag carrier, recovering from two fatal air crashes in 2014, looks to meet growing travel demand.
The airline will replace 15 of its aging planes and add 10 to fuel growth, Chief Executive Officer Peter Bellew said in an interview in Singapore Tuesday. It may look at Airbus Group SE's A330s and A350s, and Boeing Co.'s 787s, with a decision due by the middle to end of next year, he said.
"I am short of widebody aircraft," said Bellew. Besides the current Kuala Lumpur-London flights, "we won't do other long-haul routes until 2020, 2021 because the aircraft will be available at the right price, at the right time and at the right configuration."
Bellew, who became Malaysia Air's third chief executive officer in two years in July, is tasked with the job of restoring confidence in the carrier that lost two planes two years ago -- one that vanished over the Indian Ocean and another that was shot down over Ukraine. The airline is likely to become profitable in 2018 before it relists its shares in the first quarter of the following year, Bellew said.
Fully owned by Khazanah Nasional Bhd. after being taken private in 2014, Malaysia Air has cut long-haul flights and eliminated about 6,000 jobs as part of its restructuring.
After scrapping some European routes, it signed a code-share deal last year with Dubai-based Emirates for longer-haul destinations, eschewing its traditional model of linking Europe and Australia via Southeast Asia. The Asian carrier flies to London from Kuala Lumpur using the Airbus A380s and plans to replace them with A350s in April 2018, Bellew said.
To read about Malaysia Airlines' plans for its A380s, click here
To claw back some of its lost business, Malaysia Air has been offering promotions on its business and economy cabins to lure passengers, Bellew said in a separate interview with Bloomberg Television's Haslinda Amin. With round-trip tickets between Kuala Lumpur and London for as low as $450, the airline now has a market share of about 60 percent on its London flights, compared with about 45 percent in May, Bellew said.
"The competition is very intense on direct routes to Europe," Bellew said. "But I think there will be a place in the future for Malaysia Airlines to look at direct long haul services back to Europe."
Malaysia Air ordered 25 Boeing 737 Max 8 jets, worth $2.75 billion at list price in July with options for 25 more to compete against a slew of budget carriers in the region.
The carrier doesn't have enough planes to meet the unprecedented opportunity in China, Bellew said. If 12 percent of the mainland Chinese get passports in 10 years, as per a government target, that would translate to 150 million more potential tourists flying to Malaysia, he said.
"The global mega trend in tourism is in China," Bellew said.
— With assistance by Anand Menon, and Karolina Miziolek
Before it's here, it's on the Bloomberg Terminal.
LEARN MORE