Copper Slides With Iron Ore as Post-Trump Surge Seen Excessive
by
Copper futures drop as much as 3.6% after 11% surge last week

Goldman raises copper-price forecasts, but remains bearish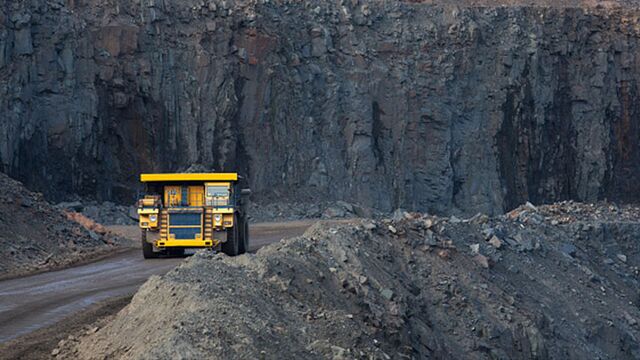 After a searing rally last week, metals and iron ore are giving back some of the gains.
Iron ore slid the most since May and tin and copper led declines on the London Metal Exchange. Metals had surged to multi-year highs following Donald Trump's surprise U.S. election win as he pledged to boost infrastructure spending. That sent the 14-day relative-strength index for the LME's metals gauge to as high as 87 last week, well above the 70 level signaling to some traders that prices may have risen too far, too fast.
"The election of Donald Trump increased the volatility in metals prices," Casper Burgering, an ABN Amro Bank NV analyst in Amsterdam, said by phone. "It's purely on speculation, and now you see prices going down again. There is some profit-taking in most metals markets."

Copper is the best performer on the LME this quarter and jumped 11 percent last week, the most in five years. The surge in interest from China and more signs of economic resilience in the country, which consumes more than 40 percent of the world's supply, have helped prices that lagged most metals throughout the year. Trump has pledged to spur $1 trillion of investment on bridges, airports and roads.
Speculative interest in China has been a big driver of the rally. In the four trading days through Monday, copper prices on the LME peaked between 10:30 a.m. and 6 p.m. Shanghai time, and declined during London and New York hours. On Tuesday, while metals rose during Asian trading hours, the gains reversed as the London trading day began.
For the analysis of why Chinese speculators are moving to copper, click here.

Tin fell as much as 4.8 percent, the most since March, while copper slid as much as 3.6 percent.
Iron ore with 62 percent content in Qingdao fell 6.5 percent to $72.68 a metric ton, according to Metal Bulletin Ltd. The SGX AsiaClear iron ore contract for December settlement sank as much as 11 percent to $67.62 a ton.
Tuesday's retreat hit mining stocks. The Bloomberg World Iron/Steel Index fell for the first time in nine sessions, with AK Steel Holding Corp. was among the worst performers. Teck Resources Ltd. and Freeport-McMoRan Inc. also declined as a gauge of base-metal producers slid.
While the recent metals rally prompted some analysts to raise price forecasts, they're still bearish in the medium term. Goldman Sachs Group Inc. sees copper trading at $5,000 within three months, compared with a previous outlook of $4,300, it said in a report Tuesday. The six-month forecast was increased to $4,800 from $4,300. Macquarie Group Ltd. also lifted its expectations for metals.
"The market has become too bullish, too quickly on some metals, namely copper, and we continue to see supply differentiation going forward," Goldman analysts including Max Layton in London said in the report. "The outlook for copper is bearish from current levels."
The impact on metals demand from Trump's victory isn't clear yet, they said.
Before it's here, it's on the Bloomberg Terminal.
LEARN MORE