International Warships Sail to Aid of Quake-Stricken N.Z. Town
By
U.S., Australia, Canada send vessels to help rescue tourists

Wellington building at risk of collapse after massive quake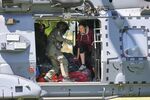 A fleet of international warships is heading to Kaikoura on New Zealand's South Island Wednesday to help with the rescue of hundreds of tourists, who are stranded after a massive earthquake blocked roads to the small coastal town.
Military vessels from the U.S., Australia and Canada will accompany four New Zealand naval ships to the area, popular with tourists for its whale-watching operation, Defence Minister Gerry Brownlee said in a statement. The ships were already en route to the South Pacific nation to participate in the Royal New Zealand Navy's 75th anniversary celebrations.
"It's heartening to see overseas partners so willing to alter their plans and offer their assistance," Brownlee said. "Despite the changes to the planned celebrations, it's poignant to see the anniversary marked with such cooperation and camaraderie."
A magnitude 7.5 earthquake struck the north of the South Island early Monday, tearing the landscape, lifting the seabed by at least a meter around Kaikoura and violently shaking capital city Wellington more than 300 kilometers (185 miles) away. While the country was spared the widespread destruction caused by a 2011 quake that left 185 dead, the latest disaster killed two people and caused significant damage to roads and rail infrastructure. A 10-storey building in Wellington is now at risk of collapse.
Tourists Airlifted
The immediate focus has been getting the more than 1,000 tourists out of Kaikoura, which is also in need of water, food and sanitary supplies. Several hundred people were airlifted out Tuesday as strong aftershocks continue to shake the region.
Brownlee said the New Zealand Defence Force has accepted offers of help from the U.S, Australia, Canada, Japan and Singapore.
Vessels in action include the USS Sampson, the first U.S. warship to visit New Zealand in 33 years, which will deploy two MH60 helicopters. Australian has diverted the HMAS Darwin, which will use its Seahawk helicopter from offshore, while Canada is sending the HMCS Vancouver. They will join New Zealand's HMNZS Canterbury, HMNZS Wellington, HMNZS Te Kaha and tanker ship HMNZS Endeavour.
Before it's here, it's on the Bloomberg Terminal.
LEARN MORE