Hong Kong Stocks Advance From Three-Month Low as Turmoil Abates
Bloomberg News
China Construction Bank, Hang Seng Bank among biggest gainers

Shanghai Composite Index declines after reaching 10-month high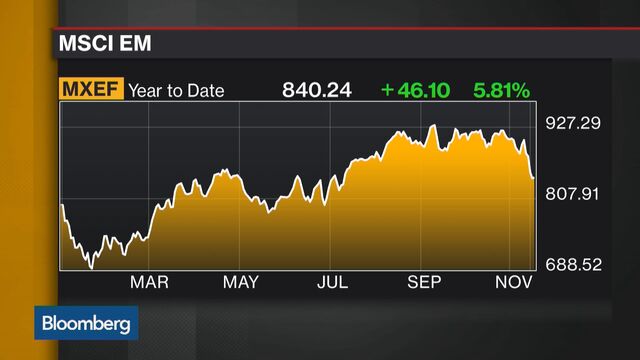 Hong Kong stocks rose from a three-month low, led by financial companies, as global turmoil spurred by Donald Trump's unexpected victory moderated.
The Hang Seng Index closed 0.5 percent higher after finishing Monday at its lowest level since Aug. 5. Hang Seng Bank Ltd. and China Construction Bank Corp. were among the top performers. China Merchants Port Holdings Co. led the advance as a gauge of shipping prices increased. The Shanghai Composite Index fell from a 10-month high at the close after a technical indicator signaled gains were overdone.
Hong Kong's currency peg to the greenback and position as an international financial center make it vulnerable to global volatility, with the benchmark equity index slumping 3 percent in the wake of Trump's election success. The Hang Seng Index rose on Tuesday along with the region's equities as benchmark Treasuries advanced for the first time in more than a week and the dollar retreated.
"The Hong Kong market has stabilized along with global markets as investors begin to revise their pessimistic expectations about Trump's victory," said Wang Chen, a partner at Xufunds Investment Management Co. in Shanghai. "His policy of increasing infrastructure spending in the U.S. is good news for the U.S. and the rest of the world, which will benefit from rising exports of raw materials."
The Hang Seng Index closed at 22,323.91, while the Hang Seng China Enterprises Index advanced 0.6 percent. China Construction Bank added 1.3 percent after falling to a three-month low on Monday. Hang Seng Bank rose 2.1 percent.
Shipping Rally
China Merchants Port Holdings rose the most on Hong Kong's benchmark gauge, adding 2.6 percent for its biggest jump in a month. The Baltic Dry Index has increased for eight straight days to reach its highest level in 15 months.
Datang Environment Industry Group Co., a provider of environmental protection and energy conservation services, rallied as much as 20 percent in its trading debut, before ending the session little changed.
The Shanghai Composite slipped 0.1 percent. The gauge's 14-day relative strength measure, a gauge of how rapidly prices have changed, rose to 71.9 on Monday. Readings above 70 signal to some traders gains may be excessive.

China's financial markets are enduring Trump's victory better than most. Since last week's shock result, the benchmark stock index has rallied into a bull market, while the Shenzhen Composite Index rose 0.5 percent on Tuesday to reach its highest level since January. The yuan -- while falling to an eight-year low against the dollar -- has risen against a basket of peers. The nine basis point increase in China's 10-year sovereign debt yield through Monday was dwarfed by the 33 basis point jump by U.S. Treasury yields.
The resilience is notable given China was in the cross-hairs of Trump's electioneering, with the Republican branding the country a currency manipulator and threatening to impose import tariffs against the country's goods. Capital controls help shelter China's financial markets from global volatility, with flows in and out of equities and bonds capped by government-imposed quotas.
"The mainland market is less correlated with the rest of the world," said Tony Chu, Hong Kong-based fund manager at Victory Capital Management Inc., which manages about $51 billion in assets. "China has been controlling the capital account."
China Vanke Co. advanced 4.8 percent in Shenzhen. China Evergrande Group bought 73.7 million yuan-denominated shares of the property developer, boosting its stake in its rival developer to 10.16 percent, according to an exchange statement.
— With assistance by Shidong Zhang
Before it's here, it's on the Bloomberg Terminal.
LEARN MORE