pursuits
Home Depot's Tepid Sales Forecast Signals Homeowner Caution
By
Projection implies slower fourth-quarter revenue growth

Rising housing values have kept Americans spending on homes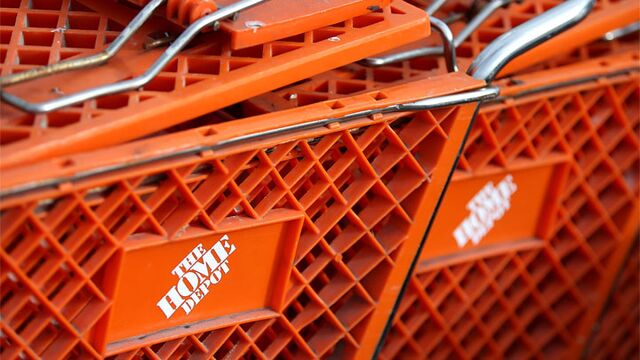 Even after posting better-than-estimated sales last quarter, Home Depot Inc. declined to raise its annual revenue forecast, a sign that Americans' zeal for remodeling their homes may be cooling.
While sales climbed 6.1 percent in Home Depot's fiscal third quarter, beating analysts' estimates, the increase was smaller than the gains in the previous two periods. Because the company maintained its forecast that sales will gain 6.3 percent for the full year, that implies a further deceleration in the current quarter, which runs through January.

The results show that the largest home-improvement retailer has long benefited from robust demand for remodeling supplies, even as other parts of the retail industry slow down. Yet with the increase in property values approaching its fifth year, Americans may be running out of projects to complete or diverting their spending elsewhere.
Home Depot fell as much as 3 percent to $123.84 in New York. The shares already had slid 3.5 percent this year through Monday. Rival Lowe's Cos., which reports results on Wednesday, had fallen 7.9 percent.
The drop comes even after Home Depot's third-quarter results beat projections. Profit rose to $1.60 a share in the quarter through Oct. 30, the Atlanta-based company said in a statement Tuesday. Analysts estimated $1.58, on average.
Trump Effect
Donald Trump's victory in the presidential election and speculation that he will boost government spending may also be weighing on Home Depot's shares because that agenda would cause inflation and increase borrowing costs, said David Schick, an analyst at Consumer Edge Research. Mortgage rates already have gone up, which makes it harder for people to buy homes.
"Home Depot is seen as a rate-sensitive stock, and that's the shorter-term, more powerful market narrative," Schick said. "Markets are reacting to the move in interest rates off the bond market's assessment of potential future changes in the federal budget and the U.S. economy."
Home Depot raised its profit forecast because of a lower tax rate and plans to buy more stock than expected, Chief Financial Officer Carol Tome said in an interview. Same-store sales will gain a little more than 3 percent in the fourth quarter, which is lower than the rest of the year. But that increase will be on top of a gain of 7.1 percent in 2015's fourth quarter, so the two-year growth rate is in line with the rest of the year, Tome said.
As for rising rates slowing down the housing market, Tome said they would have to go up much more than expected to hurt the industry. Americans are still spending less on mortgages as a percentage of income than they did during the late 1990s, she said.
"Rates can move quite a bit before there is any impact," Tome said.
Revenue climbed 6.1 percent to $23.2 billion last quarter, topping analysts' $23 billion projection. Sales at stores open for more than a year -- a key benchmark for investors -- rose 5.5 percent. That beat analysts' 4.4 percent prediction, according to Consensus Metrix.
Rising Prices
Home prices have been rising at a pace of around 5 percent for two years, supported by continued hiring, rising wages and low-cost mortgages amid a limited supply of houses, especially on the cheap end. Data released by S&P CoreLogic Case-Shiller last month showed that trend continuing, with its 20-city property values index increasing 5.1 percent in August.
Last quarter, more customers visited Home Depot and spent more when they get there. Home Depot had 380 million customer transactions, up 2.4 percent from a year earlier. The average purchase rose 3 percent to $59.78.
The results spurred Home Depot to increase its forecast for profit to $6.33 a share, up from a previous projection of $6.31. Increases in home values, U.S. economic growth and household formation all bode well for the home-improvement industry, Chief Executive Officer Craig Menear said on a call with analysts.
"We don't see anything on the horizon that should change the growth drivers for our business," he said.
(
Updates with CFO's comments starting in eighth paragraph.
)
Before it's here, it's on the Bloomberg Terminal.
LEARN MORE