Hedge Funds Led Last Week's Charge Into U.S. Stocks
Bank of America's clients were big buyers of U.S. stocks.
By , , and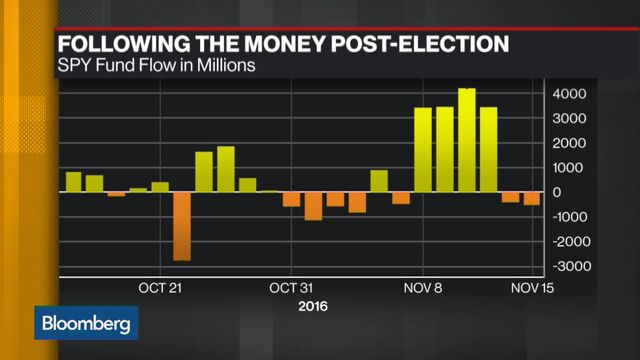 Investors tapped into dry powder in a big way last week.
Bank of America Merrill Lynch's clients put $2.3 billion to work in U.S. stocks during the five sessions ending Nov. 11, with hedge funds leading the charge into equities.
"Net buying last week was almost entirely in exchange-traded funds, which saw their biggest inflows since late 2014," writes Jill Carey Hall, equity and quantitative strategist. "Inflows were entirely into large caps, as clients sold small and mid caps."

The election of President-elect Donald Trump elicited a massive "America First" trade in financial markets, with investors scrambling to react to the regime change and the policies it may entail.
BAML's clients certainly weren't the only ones using ETFs to go long stocks last week — inflows into the SPDR S&P 500 ETF (SPY) hit their highest five-session level since September 2015.

On a sector level, inflows by BAML's clients were somewhat conditioned by the expected contours of President-elect Donald Trump's fiscal policy, with a few notable exceptions.
The prospect of a repatriation tax holiday spurred flows into tech stocks — which are down since the election — as many big names in the space, such as Apple Inc. and Alphabet Inc. have enormous cash hoards overseas.
But health care stocks — a segment whose financial performance would have seemingly been more imperiled by a Hillary Clinton presidency —saw higher outflows than any other sector, according to Carey Hall. Bank of America's clients may be an anomaly in this regard, however, as biotechnology and pharmaceutical ETFs saw heavy inflows in the week ending Nov. 11.
Before it's here, it's on the Bloomberg Terminal.
LEARN MORE