Gundlach Says Trump Presidency Will Be Bumpy Ride for Stocks
By and
Manager says Trump doesn't have magic wand to spur growth

DoubleLine's co-founder says consumer spending under pressure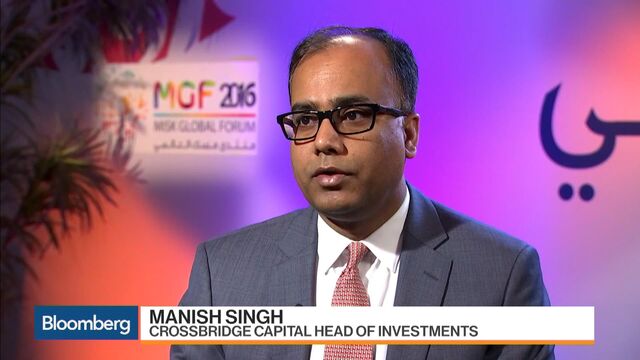 Jeffrey Gundlach, co-founder of DoubleLine Capital, said the stock market is in for a "bumpy ride" as expectations are dashed that President-Elect Donald Trump can quickly spur growth.
Gundlach, who first predicted the outcome of the election in January, said Trump doesn't have a magic wand to rapidly improve the economy. He said federal programs take time to roll out, rising mortgage rates and monthly payments aren't positive for the psyche of the middle class, and supporters of defeated Hillary Clinton are not in a mood to spend money.
"Maybe liquor sales will go up," Gundlach said on a webcast Tuesday. "The Trump win is not positive for consumer spending. "
The S&P 500 Index has climbed 1.9 percent since the Nov. 8 election, surprising those who expected a selloff. Many of the same bankers and economists who initially predicted that a Trump presidency would sink the U.S. economy are now saying his growth policies will fuel the stock market, the manager said.
"We disagree with that," said Gundlach, who urged investors to avoid the FANGs -- Facebook Inc., Amazon.com Inc., Netflix Inc. and Google (or Alphabet Inc.) -- in particular.
'Left Behind'
He said Trump prevailed mostly because wage growth has been negative since 1973 for median workers while the richest Americans have had humongous gains.
"Trump won because people felt abandoned and left behind," he said.
The increase in premiums for Obamacare was another factor that led to Trump's election, according to Gundlach. He said the jump, announced just a week before the election, even caught Obamacare proponents by surprise.
"It ended up being a significant reason why Hillary Clinton lost," Gundlach said.
Trump's victory dovetails with Gundlach's long-time allocation toward shorter-duration debt to reduce risk in a rising-rate environment, triggered by higher deficit spending. Gundlach has said that Trump, who plans to spend up to $1 trillion on infrastructure improvements, is "bond unfriendly."
Financials, Materials
Ray Dalio, founder of Bridgewater Associates, said Tuesday there is significant likelihood that the three-decade rally in bond prices has run its course. Dalio's remarks came amid a rout in global bonds, triggered by Trump's victory as traders assess the implication for inflation and interest rates.
"We probably have made both the secular low in inflation and the secular low in bond yields relative to inflation," Dalio wrote on his LinkedIn page.
Gundlach said the best stock sectors to invest in include financials, materials and industrials. He also recommended investors begin looking to buy Treasuries on dips, even though they have been hammered by rising interest rates since Trump won.
"We are coming up to a short-term peak in 10-year yields," Gundlach said, adding that investors should stick to Treasuries and avoid corporate debt.
"Corporate bonds look very overvalued and have very high interest rate risk," he said.
Before it's here, it's on the Bloomberg Terminal.
LEARN MORE