Ford CEO Warns of Huge Impact From Trump's Proposed Tariff
By and
Company's Mexican-built cars part of 'free and fair trade'

Fields says he sent letter congratulating the president-elect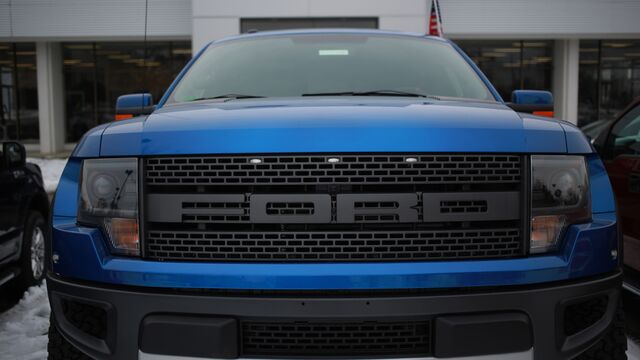 The tussle between President-elect Donald Trump and Ford Motor Co. is alive and kicking.
During the campaign, Trump blasted Ford for planning to move its North American small-car production to Mexico, where wages are 80 percent lower than in the U.S. 
Ford returned fire, criticizing Trump for failing to mention the 25,000 U.S. jobs it's added since 2011.
Now Mark Fields, Ford's chief executive officer, is taking aim at Trump's plan to scuttle free trade and impose a 35 percent tariff on cars made south of the border.
"A tariff like that would be imposed on the entire auto sector and that could have a huge impact on the U.S. economy," Fields told reporters after a speech at the AutoMobility conference in Los Angeles. Ford favors "free and fair trade."
Fields said that the company has been in touch with Trump's transition team and that he sent a congratulatory letter to the president-elect. The company declined to release the letter.
"I continue to be convinced that the right policies will prevail, because I think we all share the same objective, which is a healthy and vibrant U.S. economy," Fields said. "We expect to work very effectively and positively with the president-elect's administration as well as the new Congress."
'Engage Positively'
Fields said he's unsure if Trump will carry through on his threats to terminate trade deals like the North American Free Trade Agreement, which lets goods flow between Mexico, the U.S. and Canada without tariffs.
"We'll have to see when President-elect Trump gets into office and the policy he advocates," Fields said in an interview on Bloomberg TV. "We'll engage positively with the administration, talk about policies that will help provide growth here in the U.S. and do our part. But at the same time, make sure that as a global, successful, multi-national company that we're building where we're selling."
If Trump institutes a 35 percent tariff of Mexican-made vehicles "immediately, it will wreak absolute havoc," Rebecca Lindland, senior analyst for Kelley Blue Book, said in an interview. "If they have time to plan and rearrange production, it will cause slightly less havoc. But either way, it's going to be very costly for both consumers and businesses."
Jobs Dispute
During the presidential campaign, Ford pushed back on Trump's assertions that the company was moving jobs to Mexico. The Wayne, Michigan, factory losing the Focus small car and C-Max hybrid will get new production of a Ranger pickup and revived Bronco sport utility vehicle, people familiar with the plans have said. Ford has said no jobs will be lost at the Michigan plant.
Ford Executive Chairman Bill Ford, great-grandson of the company's founder, even met with Trump, but the candidate's criticism of the automaker continued.
"We are everything that he should be celebrating about this country," Bill Ford said in September.
Fields said Tuesday at the conference, which is the kickoff to the Los Angeles Auto Show, that company officials have talked to Trump's transition team and expect to be able to work with him as president.
"We look forward to working with the new administration and the entire newly elected Congress," Fields said. "We're in constant communication."
Fields would like Trump to take another look at Obama administration fuel economy regulations originally designed to double average new-vehicle fuel-economy to 54.5 miles per gallon by 2025. Achieving that goal has become more difficult as gasoline prices have dropped and consumers have purchased more SUVs and trucks, while turning away from efficient cars and gas-electric hybrid vehicles.
"We want to make sure that fuel economy regulations are aligned with market realities," Fields said. Ford wants to make sure rules requiring electric and hybrid vehicles match up with "how consumers are reacting to some of the new technologies."
Watch Next: Ford CEO Says Company Has Always Been for Free and Fair Trade (Full Interview)