Europe's Business Leaders Stay Defiant After Year of Shocks
By
Sixty-five percent of continent's CFOs Expect Revenue to Rise

U.K. CFOs most pessimistic as Brexit negotiations loom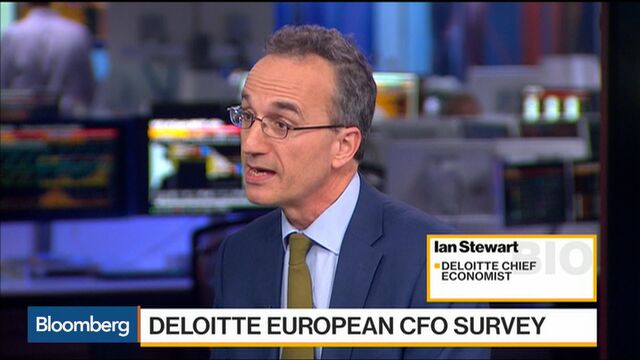 Europe's chief financial officers are staying bullish in the face of political shocks.
Sixty-five percent of 1,148 CFOs from 17 countries expect their revenue to grow in the next 12 months, an increase of 2 percentage points from the first quarter, according to a survey published by Deloitte on Tuesday.
That's despite 67 percent experiencing a high level of financial and economic uncertainty in the wake of the Brexit vote, Donald Trump's U.S. election win and potential populist upsets in French and German elections next year.
CFOs "seem to see a lot of uncertainty out there in the world and their risk appetite is pretty constrained, but actually their levels of optimism are not at super-low levels," said Ian Stewart, chief economist at Deloitte, in a Bloomberg Television interview. "They've got used to dealing with uncertainty and actually after eight years of it you probably ought to be fairly used to it."
In the U.K., where growth is forecast to slow following the decision to leave the European Union, expectations are less positive. Almost 90 percent report high uncertainty and less than half expect revenues to increase over the next year, the lowest among those surveyed. 
Almost two-thirds of British businesses cite the coming Brexit negotiations as being bad for business. The potential imposition of new barriers to trade and restrictions on worker mobility are the top concerns for businesses in both the U.K. and mainland Europe.
"Although the economy in the U.K. has bounced back in quite a decent way, we're not seeing it in the survey," Stewart said. "There's huge concern about bureaucracy and difficulty in doing business. They really don't like increased grit in the machine."
— With assistance by Anna Edwards, and Lucy Meakin
Before it's here, it's on the Bloomberg Terminal.
LEARN MORE