markets
Mobius Is Bullish on China as an Unlikely Haven From Trump
By and
Yuan is higher versus basket of peers since last week's win

Shanghai Composite Index enters bull market, bonds stable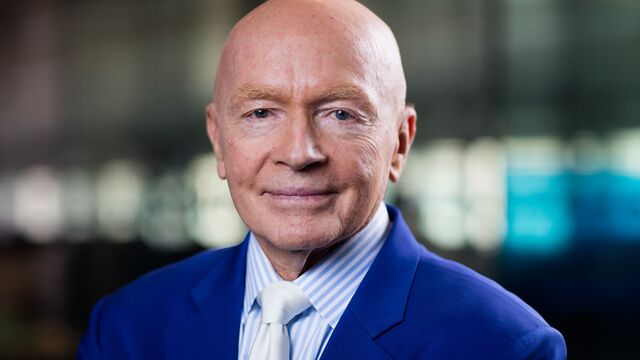 China's financial markets are enduring Donald Trump's victory better than most.
Since last week's shock result, the nation's benchmark stock index has rallied into a bull market and the yuan -- while falling to a seven-year low against the dollar -- has risen against a basket of peers. The nine basis point increase in China's 10-year sovereign debt yield is dwarfed by the 33 basis point jump by U.S. Treasury yields.
The resilience is notable given China was in the cross-hairs of Trump electioneering, with the Republican branding the country a currency manipulator and threatening to impose tariffs on its goods. While Pictet Asset Management Co. says the president-elect's plans risk sparking a trade war between the world's two largest economies, Mark Mobius is turning more bullish on Chinese equities, arguing Beijing officials may accelerate market opening.
"I'd say we are more positive on China in a sense that Trump will help open the door up more," Mobius, executive chairman of Templeton Emerging Markets Group, said by phone from Dubai. "There's a fear that Trump will institute protectionist policies but I don't think that's the case. Trump will be more business-like and realistic when negotiating with the Chinese."

The Shanghai Composite Index has climbed 2 percent since Trump's victory to trade near its highest level in 10 months. In dollar terms, the gauge is the best-performing major market outside the U.S. tracked by Bloomberg, even as the MSCI Emerging Markets Index tumbled 6.7 percent.
While the yuan has retreated 0.9 percent against the greenback to drop to an eight-year low of 6.8660 per dollar, it is outperforming all but the pound among 30 major currencies. The gap between China's 10-year sovereign debt and similar duration Treasuries is near the narrowest in 10 months.
Controls on money flowing in an out of China's financial markets -- which Mobius sees easing -- are the very thing that have shielded the nation from global volatility. Trading is dominated by individual investors, who have typically paid less attention to external events than domestic themes. The Shanghai Composite has also been a laggard compared with its regional peers this year, while the yuan has weakened for eight of the past 12 months against the dollar.
"The mainland market is less correlated with the rest of the world," said Tony Chu, Hong Kong-based fund manager at Victory Capital Management Inc., which manages about $51 billion in assets. "China has been controlling the capital account."
Foreign Outflows
The 120-day correlation between Shanghai's index and the MSCI All Country World Index is 0.2, close to the zero level that signals no relationship rather than the 1 that suggests shares move in lockstep.
Even as Shanghai shares rally, some foreign investors are selling. Global funds have sold a net 3.57 billion yuan ($520 million) of Shanghai shares through a Hong Kong exchange link this month, while the Hang Seng China Enterprises Index has slumped to a three-month low.
"I'm intuitively a bit more negative on China," said Pauline Dan, Hong Kong-based head of Greater China equities at Pictet, which oversaw $154 billion at the end of 2015. "If Trump carries out what he has said he would do, like implementing import tariffs, that's not going to be positive."

There is concern Trump's impact on global trade and U.S. bond yields will worsen yuan losses and accelerate capital outflows. The one-year interest-rate swap jumped to a 19-month high of 2.92 percent, reflecting a draining of money-market liquidity. Credit-default swaps on China's sovereign debt rose 18 basis points since Nov. 7, CMA-compiled prices show.
"There's a growing possibility that China will be at the epicenter of President elect Trump's first crisis," as his policies trigger a rush to export capital, said John-Paul Smith, London-based strategist at research firm Ecstrat Ltd. 
Trump will probably back down from his threats, according to Shane Oliver, head of investment strategy at AMP Capital Investors Ltd. in Sydney.
"As a businessman, he'll probably try to go for a win-win situation," Oliver said. "He would be aware that if he puts tariffs on Chinese imports at 45 percent, that would result in dramatic cost increases in the U.S. Other countries would then fill the gap so it won't necessarily bring jobs back to America."
President Xi Jinping told Trump in their first conversation this week that the two nations must coordinate efforts to promote global economic growth, while Trump promised "one of the strongest relationships." The same day the Global Times newspaper wrote in an editorial that Boeing Co. and Apple Inc. sales will suffer a setback in any trade war.
"The Chinese will have no problem sitting down with Trump," Mobius said. "They want to be sitting down and talking about dollars and cents, which is what Trump understands."
(
Updates Treasury yield in second paragraph, prices throughout copy.
)
Before it's here, it's on the Bloomberg Terminal.
LEARN MORE