Carney Sees Faster Inflation Ahead as Pace Slips in October
By and
October consumer-price growth rate unexpectedly slowed

Governor says inflation slowdown doesn't alter outlook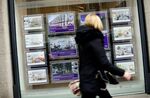 Mark Carney said the latest unexpected slowing of inflation doesn't change the outlook that the rate of price increases will exceed the Bank of England's target soon.
"I wouldn't take a steer from the October numbers," the BOE governor said after data on Tuesday showed that price gains unexpectedly cooled last month. "Unfortunately inflation is going to go up -- that's the consequence of a very large move in the exchange rate."
The pound's Brexit-induced slump is driving up import costs, though the pass-through to consumer prices may take some time, Carney said. Public concern about prices has risen amid high-profile hikes in the cost of products such as Marmite spread and Walkers potato chips, and even alterations to the famous triangular shape of Toblerone chocolate bars. The BOE this month said inflation will go above the 2 percent goal next year and stay there until the end of the decade.
"More generalized price inflation is coming," the BOE governor told lawmakers at a Parliamentary hearing in London on Tuesday. "We do want it back towards 2 percent. We're willing to tolerate an overshoot for broader reasons."
Carney said there was no precise number in terms of above-goal consumer-price gains that will be tolerated by officials and it will depend on what is driving inflation. Officials were more likely to accommodate an overshoot if it was being driven by a falling pound, "if there is a considerable degree of slack in the economy," and if inflation expectations remain anchored, he said.
The drop in the inflation rate in October was driven down by the price of clothing and university tuition fees, but cost pressures built as the falling pound spurred the biggest jump in import prices in five years. Consumer-price growth was 0.9 percent compared with 1 percent in September, the Office for National Statistics said on Tuesday. The rate was forecast by economists to accelerate to 1.1 percent.

The slowdown will prove temporary, economists warned, as separate figures showed the cost of goods leaving factory gates surged 2.1 percent -- the fastest annual pace since April 2012. Input prices jumped by 4.6 percent, the biggest monthly gain since records began in 1996.
The drop in the pound since the Brexit vote in June was both "necessary" and reflects the market's expectation that the U.K. economy will become less open after Britain leaves the European Union, Carney said. BOE policy makers will try to support growth and the labor market as the economy adjusts.
"It's better to take that in a little bit of inflation with more people employed and nominal wages growing a bit more, than doing the opposite and squeezing it out and taking much higher unemployment," he said. "There are limits, though, to that."
Term Length
The U.K. decision to leave the EU prompted Carney to pledge last month that he will stay on as governor a year longer than he had initially planned. While the government had asked him to stay on to help smooth the transition, his personal circumstances haven't changed and he will definitely return to Canada in 2019, he said.
The pound is down 16 percent since the June Brexit vote. That will help narrow the U.K.'s "very large" current account deficit of almost 6 percent of gross domestic product, Carney told lawmakers. That will be welcome, as at its present size the trade gap is "unlikely to be" sustainable, he said.
"Given the scale of the exchange-rate move, given the level of domestic demand that we expect, we see the potential for the current account deficit to halve, almost halve, over the course of the next three years to get to about three, three-and-a-half, percent of GDP," he said.
The U.K. central bank will update its economic forecasts early next year when it has a better idea of how companies are adjusting to Brexit, Carney said. Companies are making plans but it's too early to implement them, he said.
Loose Policy
Carney also said arguments by politicians that loose monetary policies in the U.K. and elsewhere have widened inequality miss the mark.
"The focus on monetary policy is a massive deflection exercise," he said. "Inequality is caused by much more fundamental factors."
The BOE eased policy in August as they prioritized supporting growth. Earlier this month BOE officials shifted their guidance to say policy could head in either direction next after the weaker pound starting fanning inflation.
"Rates could go up, could go down," Carney told lawmakers.
Bloomberg's most recent survey, conducted from Nov. 4-11, found the median forecast of economists is for the BOE's main rate to stay at 0.25 percent until at least the first quarter of 2019, just months before Carney is due to stand down as governor.
— With assistance by Lucy Meakin, Catherine Bosley, and Jill Ward
Before it's here, it's on the Bloomberg Terminal.
LEARN MORE