business
Brexit Bulletin: Who Will Build Britain's Future?
As Brexit budget approaches, companies wonder who they'll be able to hire to do the heavy lifting.
By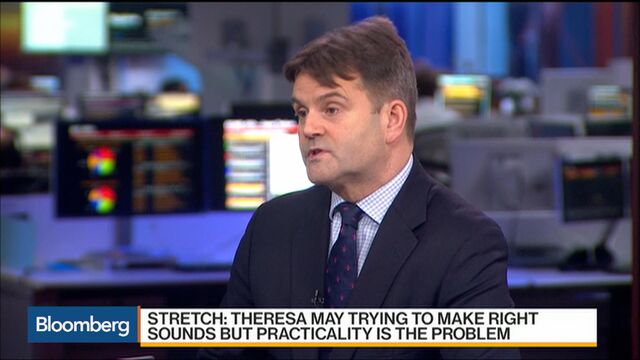 Sign up to receive the Brexit Bulletin in your inbox, and follow @Brexit on Twitter.
The wishlist for the U.K. government is pretty long and ranges from a new high-speed rail line to a giant nuclear plant and a third airport runway.
The problem, as Bloomberg's Thomas Seal writes today, is that such infrastructure projects almost certainly need foreign labor, and Brexit risks imperiling the supply of that. 

Phone company BT Group and builder Balfour Beatty are already warning of a shortage of qualified workers falling between the low-skilled baristas and highly-paid bankers who are the most conspicuous symbols of the U.K.'s surge in immigration.
The U.K. "is less attractive to talented people already," Sevcon Chief Executive Officer Matt Boyle said. "It's becoming a problem getting people here for interview."
Sky News reported U.K. Chancellor of the Exchequer Philip Hammond may next week outline plans to spend up to £15 billion ($19 billion) on small-scale infrastructure projects. The Financial Times said he's considering issuing infrastructure bonds to raise money.

Brexit Bullets
EU eyeing Brexit divorce draft by mid-2018 with €40 billion ($43 billion) to €60 billion bill, says the FT. The exit bill would include unpaid budget obligations, pension liabilities, loan guarantees and project spending
U.K. denies Times report that Brexit is swamping government. Times cites leaked memo that also says Cabinet splits may delay decision-making
EasyJet CEO says airline will remain headquartered in U.K. and set up a European operating company
May calls on U.K. to show capitalism "works for everyone"
Europe's financial hubs parade on Frankfurt "catwalk"
French regulator says London transfers won't be to just one city
U.K.'s Davis says seeking liberal access to EU aviation markets
Trump is no cure for Brexit's $82 billion investment gap: Bloomberg Gadfly
Merkel faces dilemma as Trump risks U.S. role as global leader. Says U.K. must be clear what exit it wants. 
Brexit Budget Nears
Hammond will be busy at work crafting his mini-budget, known as the Autumn Statement, for Nov. 23. 
John McDonnell, the economy spokesman for the U.K.'s opposition Labour Party, gives what is likely to be some unwelcome advice today, suggesting Hammond end austerity, reverse benefit curbs and boost funding for public services to counter the economic risks of Brexit.
PricewaterhouseCoopers estimates Hammond will need to borrow £100 billion more than previously forecast and predicts he may promise to limit borrowing to the amount needed for public investment. 
The Institute of Directors wants Hammond to put investment at the heart of his plan, according to the Daily Telegraph, which also reports the chancellor is under pressure to rethink stamp duty on mortgages. 
Gain Then Pain?
The stronger the U.K. economy is, the harder the Brexit deal could be.
So say Bloomberg Intelligence's Jamie Murray and King's College London's Anand Menon in separate commentaries published yesterday.
While Murray predicts economic growth to slow in coming months, he sees a chance it could keep expanding at a decent clip, further defying the pre-referendum forecasts of recession.
In that case, European Union governments may worry that populist forces elsewhere in the bloc could build. The solution for that would be to make leaving the EU less appealing by punishing the U.K. in the Brexit deal.
"For those seeking to preserve the EU, there will be an incentive to demonstrate that the long-term costs of Brexit are big," said Murray. "So while it is pleasing to see the British economy do so well, I fear that the good news now will spell bad news later on."
Separately, Menon, director of the U.K. in a Changing Europe, wrote on the London School of Economics blog that the economy's resilience meant a greater likelihood of a so-called hard Brexit in which the government secures its borders rather than trade.
"The fact that the economy has performed relatively well since the referendum has hardened opinion amongst those who believe Brexit will make the U.K. better off," he wrote. "The economic case against leaving the single market may lack credible evidence early enough to shift the mood."
On the Markets
The pound fell for a second day against the dollar and also against the euro after a report showed U.K. inflation unexpectedly slowed in October. Consumer prices grew 0.9 percent last month, compared to 1 percent in September and the 1.1 percent expected by economists.



And Finally...
The U.K. may struggle to sign up free trade deals because it's no longer the commercial powerhouse it once was, according to Deutsche Bank.
In a report published yesterday, strategist Oliver Harvey noted that the country's share of world imports is now around 3 percent, versus 10 percent in the late 1940s. This is below the 31 percent of the EU, 13 percent of the U.S. and 11 percent of China.
"While not insignificant, the U.K. market is not as attractive as in the past for countries seeking to conclude free-trade agreements," said Harvey. 
For more on Brexit follow Bloomberg on Twitter, Facebook and Instagram, and see our full coverage at Bloomberg.com
Before it's here, it's on the Bloomberg Terminal.
LEARN MORE