American Apparel's New Meltdown Imperils Goldman Sachs Stake
by
Troubled clothing chain files second bankruptcy in 13 months

Gildan's $66 million offer would leave $123 million in losses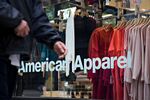 Goldman Sachs Group Inc. and three other investors stand to lose as much as $123 million after taking a chance on American Apparel Inc., only to see the troubled clothing maker file for bankruptcy for the second time in 13 months.
Goldman Sachs Asset Management LP, Monarch Alternative Capital LP, Coliseum Capital Management LLC and Pentwater Capital Management LP own 94 percent of the iconic brand and hold $189.2 million of its senior debt. For them to have any chance of recovering their investments, American Apparel will need more than the limited $66 million bid it has attracted so far.
"If no one shows up at the auction, then I think it's not hard to imagine what will happen," the retailer's lead bankruptcy attorney, Scott J. Greenberg of Jones Day, told U.S. Bankruptcy Judge Brendan L. Shannon at a hearing Tuesday in Wilmington, Delaware.
American Apparel filed for bankruptcy Monday, nine months after the four investors took over the company in exchange for canceling as much as $200 million in debt and after investment bank Houlihan Lokey Capital Inc. tried to find a buyer. 
Canadian T-shirt and underwear maker Gildan Activewear Inc. has made the only binding bid, agreeing to buy the American Apparel brand and some wholesale inventory. The Montreal-based company may also bid on American Apparel's warehouses and factories, but the agreement doesn't include the stores.
Andrew Williams, a spokesman for New York-based Goldman Sachs, declined to comment on the investment. Representatives of Monarch, Coliseum and Pentwater didn't immediately return calls for comment on potential losses.
Still Looking
Los Angeles-based American Apparel will keep trying to attract a buyer for all its assets, including its 110 U.S. retail locations -- less than half the number the company ran in its heyday.
"The company has been evaluating several competitive bids, some of which involve interest in retail," Arielle Patrick, a spokeswoman for American Apparel, said in an e-mail. "We see potential for the retail business to continue under a possible new buyer stemming from the auction."
When American Apparel filed for bankruptcy the first time, in October 2015, Goldman Sachs and the other owners held about $243 million in the company's senior debt, not including interest or fees. They traded that in for their current ownership stakes and about $90 million in debt when the company exited Chapter 11 in February.
More Loans
The group kept American Apparel afloat with more loans as the company tried to fix operating problems at its factories and warehouses, Greenberg told Shannon. The turnaround plan failed, he said.
In the past week, the chances of American Apparel selling more than just its name have improved, Gerard Uzzi, a lawyer for the four owner-lenders, said at Tuesday's hearing.
The coming auction "is an opportunity for a going-concern sale," he said, without offering details. Uzzi declined to comment on potential losses after the hearing.
At its height, American Apparel ran 280 stores and five factories. It financed growth on borrowings and bank debt, leaving it vulnerable to a downturn in business. As malls lost foot traffic and more Americans began shopping online, many U.S. retailers struggled, with clothing companies hit particularly hard. Aeropostale Inc., Quiksilver Inc. and Pacific Sunwear of California Inc. have all filed for bankruptcy in recent years.
The company was in court Tuesday to ask Shannon for interim permission to borrow $10 million so it can keep operating while it prepares for the auction.
The case is In re American Apparel LLC, 16-12551, U.S. Bankruptcy Court, District of Delaware (Delaware).
Before it's here, it's on the Bloomberg Terminal.
LEARN MORE