Billionaire Wang's Wanda Cinema Sees Opportunity in China's Box-Office Slump
Bloomberg News
'Poor product' to blame for slump in ticket sales, Zeng says

Zeng says Mtime.com business to become profitable this year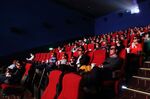 China's largest theater operator said a slump in box-office sales nationwide leaves the company, which has bucked the trend at its own cinemas, in position to buy rivals at cheaper valuations.
Wanda Cinema Line Co., the film exhibitor arm of billionaire Wang Jianlin's Wanda Group, is maintaining its target to use acquisitions and organic growth to add about 150 theaters this year, averaging about three a week, President Zeng Maojun told reporters Monday in Beijing.
"A few acquisitions are still being finalized," he said.
Wang's entertainment empire has expanded outside China as well, agreeing in March to pay $1.1 billion for Carmike Cinemas Inc. through its U.S.-based AMC Entertainment Holdings Inc. unit, a deal that would form the largest U.S. theater chain. A multi-year boom in ticket sales has brought global attention and dealmakers to China's movie market, only to see a dearth of hits this year undercut the rise in box-office receipts.
"The slowdown in box office sales this year has provided us with better opportunities and valuations for acquisitions," said Zeng. "As the market is cooling off from the previous three years and some of the hot money is leaving, we will emerge to be stronger."
Adding new theaters has helped Wanda Cinema keep revenue growing as industrywide ticket sales slumped. Revenue rose 38 percent to 2.7 billion yuan in the third quarter, while profit jumped 10 percent.
Ticket sales fell 14 percent in the third quarter industrywide, compared with annual growth of about 38 percent between 2008 and 2015, according to government data.
"This year 's slowdown is mainly attributed to poor product offerings," Zeng said. "Some films had a total production turnaround of only six months, giving little consideration to quality and audience taste."
Zeng also said he expects Wanda Cinema's investment in movie-related merchandise sales to start to pay off this year.
Mtime.com Inc., the movie portal, database and themed merchandise seller Wanda has acquired, will be profitable this year, mainly helped by merchandising sales of movie-themed products, such as toys and action figures from the "Warcraft" film, Mtime Chief Executive Officer Kelvin Hou, said at a briefing Monday in Beijing.
Hou, a former Microsoft China executive who founded Mtime.com in 2005, unveiled an updated movie industry information app that allows real-time box office tracking along with data on producers, actors and directors to help movie industry professionals analyze trends.
Wanda Cinema and Mtime will combine their retail stores across China this year, creating a chain of about 50 to 60 outlets, said Zeng. There are also plans to open such stores at cinemas operated Wanda group owns in the U.S., Europe and Australia and will sell goods related to "The Great Wall," a fantasy action film starring Matt Damon, through Amazon.com globally.
— With assistance by Jing Yang De Morel
Before it's here, it's on the Bloomberg Terminal.
LEARN MORE