Trump Selloff Means No Holiday, Weekends at Work for Asia Investors
By and
Indonesian, Philippine stocks among world's worst performers

Outflows will likely continue for a while: Samsung Asset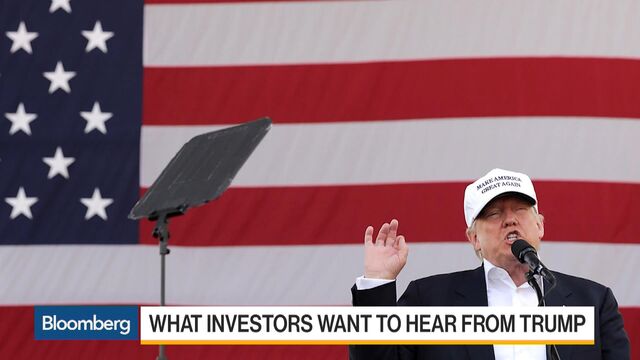 The meltdown in Southeast Asian emerging markets following Donald Trump's upset U.S. election win is so unsettling that Alan Richardson is canceling his holiday plans.
"This year has really been messy," says Richardson, investment manager at Samsung Asset Management in Hong Kong, whose Asean equities fund has returned 19 percent this year to beat 91 percent of its peers. "It's been extremely difficult to be ahead of the curve this year because of the volatility. I don't have the luxury of taking time off."
Around $1 billion has been pulled from Indonesian, Malaysian, Philippine and Thai stocks since Trump's Nov. 8 victory sent shockwaves through emerging markets. Southeast Asia has been hit particularly hard, with the Indonesian and Philippine gauges among the world's worst performing markets outside of Latin America. The region's equities have given up much of the year's gains.
"We're seeing the unwinding of the inflows we saw earlier in the year," says Richardson. "The market didn't expect a Trump victory. The majority of investors have to readjust their portfolios. This will continue for a while. "

Emerging-market assets are tumbling on speculation the Federal Reserve will be forced to raise rates faster than expected to contain inflation if the president-elect follows through on a pledge to spend big on infrastructure. Investors are also worried about the extent to which Trump's campaign rhetoric that stressed trade protectionism will translate into actual policy.
With valuations that had been inflated by 2016's developing-nation rally and currencies that are vulnerable to external shocks, there may be further to fall for the four Southeast Asian markets. The MSCI South East Asia Index, which also includes Singaporean equities and was at a 13-month high in August, has dropped 5.8 percent since the U.S. election and reached the lowest in more than eight months on Monday.
The Jakarta Composite Index slumped 6.8 percent in the three days through Tuesday to close at a July low. That pared its gain this year to 11 percent.
The Philippine Stock Exchange Index lost 4.5 percent and fell to the lowest level since March. It's now down 1.4 percent in 2016.
Thailand's SET Index declined closed up 0.5 percent on Tuesday after dropping 3 percent in the previous two days. It's risen 15 percent this year.
The FTSE Bursa Malaysia KLCI Index rebounded 0.9 percent on Tuesday after falling 2.2 percent over the previous two sessions. It's dropped 3.7 percent in 2016.


Robert Ramos, chief investment officer at Union Bank of the Philippines in Manila, said he worked through the weekend crunching numbers and that he's spending a lot of time watching news channels.
In the Philippines, the Trump effect is weighing on a market that's been falling since July amid Asia's highest valuations and investor nervousness over President Rodrigo Duterte and his pivot toward China. The U.S. is the nation's largest source of remittances and the Philippine economy has benefited from American companies offshoring business processes, a trend that could be threatened if Trump takes a more economically nationalistic approach.
"We have been rebalancing our portfolio since last month and we are doing a little bit more of that now," said Ramos. "We are buying stocks that we think will have earnings visibility and growth potential like those in infrastructure."
Fed Looms
The next Federal Reserve meeting in mid-December now looms especially large for Southeast Asia's emerging markets. Futures contracts are pricing in an 92 percent chance for a rate increase, and the U.S. central bank's outlook for next year will be keenly watched.
"What would be a problem is if in this December meeting we see projected inflation revised higher, and growth forecasts," said James Woods, a Sydney-based investment analyst at Rivkin Securities. "That would be a very negative shock for emerging markets."
Indonesia and Malaysia are especially vulnerable to higher U.S. borrowing costs making their assets less attractive due to the high proportion of foreign money in their sovereign bond markets. Bank Indonesia said it intervened to stabilize the rupiah on Friday after it fell as much as 3.1 percent, while Bank Negara Malaysia said it would act to avoid extreme volatility. The ringgit has weakened 3.3 percent since Nov. 8, while the rupiah has lost 2.1 percent.
Jeffrosenberg Tan, a director at PT Sinarmas Sekuritas in Jakarta, said he was spending a lot more time since the U.S. election briefing agitated clients.
"Indonesia is vulnerable to this strong dollar environment, especially with the high foreign ownership of our government bonds," he said. "It all provides incentives for foreign investors to take profit from our market."
Thai Anxiety
A Trump presidency adds an extra layer of anxiety for investors in stocks in Thailand, where the nation is still in mourning following the death of the king.
"We're working around the clock now as the volatility has been extremely high," said Narongsak Plodmechai, the Bangkok-based chief investment officer at SCB Asset Management Co., which oversees around $37 billion. "There remains a lot of uncertainty about the new U.S. administration's economic policies," he said, adding that he viewed the selloff as overdone.
Raymond Kong, who oversees $2.5 billion as a fund manager at One Asia Investment Partners in Singapore, isn't so sure. He said he'd raised the proportion of cash in his portfolio to 50 percent from about 20 percent last month and now holds very few Southeast Asian stocks.
"We're keeping our powder dry," said Kong. "If we see more falls, then we'll start buying."
For Samsung Asset's Richardson, the Trump victory has made forecasting far more complicated. He said he was adding to Singaporean banks and palm oil producers.
"These are interesting times," he said. "It's never ending. I don't know what's going to happen next."
— With assistance by En Han Choong, Tang Nguyen, Adam Haigh, and Harry Suhartono
Before it's here, it's on the Bloomberg Terminal.
LEARN MORE